Sir Alex Ferguson comeback possible - Arsene Wenger
Last updated on .From the section Football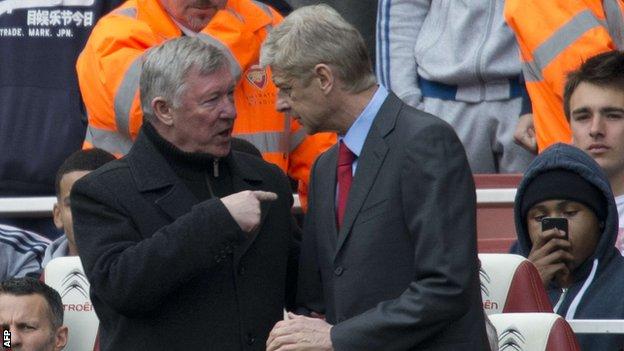 Arsene Wenger would not be shocked to see Sir Alex Ferguson make a dramatic comeback to football inside six months.
Former Manchester United boss Ferguson has insisted he would never return after announcing his retirement at the end of last season.
But Arsenal manager Wenger has his doubts, saying: "In six months we will know more about that.
"You cannot rule it completely out. It is difficult to take a drug for 30 years and suddenly get rid of it."
His comments come in the week following the publication of Ferguson's much-awaited autobiography, which has a chapter dedicated to "Competing with Wenger."
He admits he has not yet read Ferguson's book, but Wenger said: "It looks like Ferguson had prepared his book while he was managing.
"I suspect he had written some of it at home at night, remembering things and thinking: 'that goes into my book!'."
Wenger takes his Arsenal side, currently top of the Premier League, to Crystal Palace on Saturday, claiming he is as hungry for success as ever.
"We have gone through some years that were a bit more difficult, but honestly, in our job, it is quite simple just to think about tomorrow or the next game, and that is it. After that, people judge," he added.