Yaya Toure: Fifa anti-racism boss Jeffrey Webb meets Man City star
By Richard Conway
BBC Sport
Last updated on .From the section Champions League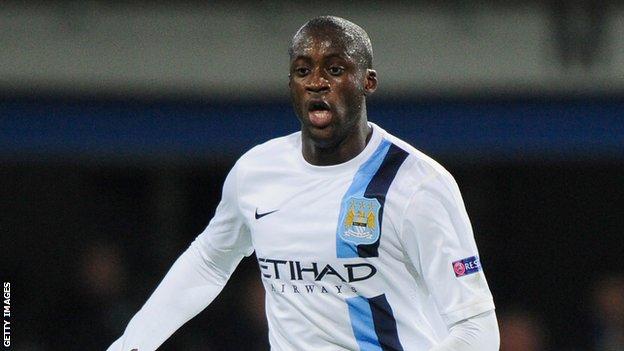 Yaya Toure met Jeffrey Webb, the head of Fifa's anti-racism task force, following Manchester City's defeat by Chelsea on Sunday.
A spokeswoman for Webb told BBC Sport that the two men had a "good conversation" at Stamford Bridge.
The Ivorian international agreed to assist Webb's task force "in any way".
Toure was said to be particularly interested in helping with a planned education programme that is due to be rolled out to national football associations in the near future.
Speaking to BBC Sport at Chelsea's stadium before the meeting Webb, 49, explained why he wanted to meet Toure.
"I'm here really out of respect to what he has endured and to find out what has transpired," he said.
He also said he agreed with Fifa president Sepp Blatter's comments at the Football Association's 150th anniversary dinner over the best way of dealing with racist incidents.
Blatter used his speech to say that sanctions for racism such as stadium closures were "nonsense", adding that teams needed to be "eliminated" from competitions if the issue was to be properly addressed.
"I agree completely but we must create a process," said Webb.
"There's always two sides and then of course we've created legislation and the whole world has adopted it. The whole 209 members of Fifa have accepted it. Uefa has implemented legislation as well.
"And now, I agree with him completely, the time for fines and closures is over.
"Now we must allow the allow the legal experts, the disciplinary committees and the various appeal processes to take place.
"But they must take the lead on this, they must be strong and make strong decisions in the best interests of the game.
"We've done our part, we've done the legislation. Now the task force is focusing on education, now focusing on providing material for our member associations to create and expose the diversity there needs to be."
Toure has raised the prospect of a player boycott of the Russia 2018 World Cup if incidents of racism persist within the country.
That idea was dismissed by Blatter who said it was better to fight the problem head on.
But Webb believes Russia must now change and intends to visit the country this year.
He said: "The main message [to Russia] must be that they embrace diversity. They are going to host the world, they are going to welcome the entire world there.
"We do believe that Fifa and the Russian authorities, the local organising committee, will put things in place. In four and a half years we hope that Russia will welcome the world."