Africa under-represented at World Cup - Blatter
Last updated on .From the section Football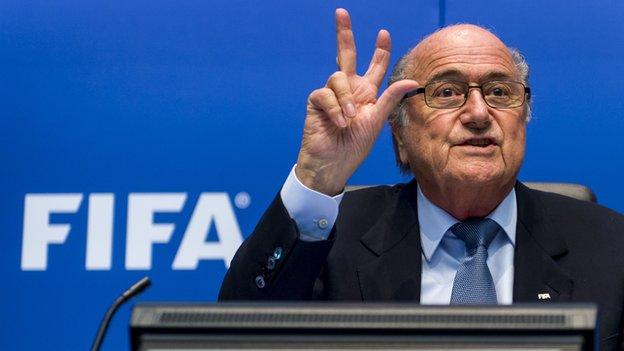 Fifa president Sepp Blatter wants more places at the World Cup for African and Asian countries.
For the 2014 World Cup in Brazil, Europe has 13 places in the finals, Africa has five and Asia has four.
"This flawed state of affairs must be rectified," Blatter wrote in the governing body's new weekly magazine.
"Africa, the confederation with the most member associations (54), is woefully under-represented at the World Cup."
He added: "As long as this remains the case African sides may never win an intercontinental trophy, regardless of progress on the playing side.
"From a purely sporting perspective I would like to see globalisation finally taken seriously and the African and Asian national associations accorded the status they deserve at the Fifa World Cup.
"It cannot be that the European and South American confederations lay claim to the majority of the berths at the World Cup (18 or 19 teams) because taken together they account for significantly fewer member associations (63) than Africa and Asia (100).
"At the end of the day an equal chance for all is the paramount imperative of elite sport."