Rangers: Dave King yet to contact Scottish FA
Last updated on .From the section Football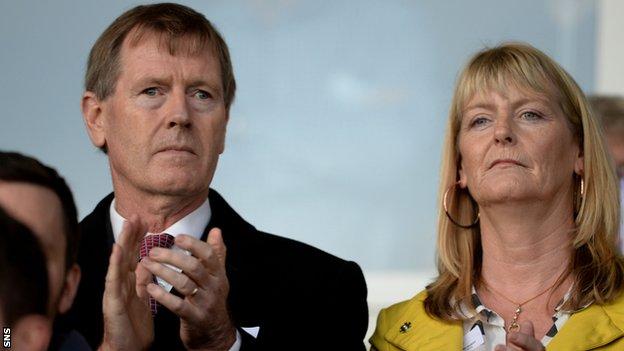 Dave King has yet to approach the Scottish FA about the possibility of joining the Rangers board.
King said on Friday he "knows for sure" his appointment would be approved and there would be "no issues".
Speaking to BBC Scotland at Rangers' match at East Fife, he said that his comments "were in relation to the AIM Stock Market requirements".
But SFA chief executive Stewart Regan said King would be "a little premature" to think he would have no concerns.
King, who invested £20m when Sir David Murray owned Rangers and remained on the board during the ill-fated reign of Craig Whyte, is exploring a return to Ibrox and has talked of his ambition to be chairman.
And the South Africa-based businessman is in Scotland for talks with the factions vying for boardroom control at Ibrox.
King has been embroiled in high-profile tax issues, pleading guilty to 41 charges and agreeing to pay £43m to South Africa's Revenue Service.
The SFA's articles of association spell out the requirements for all club office bearers and King is confident there would be no impediment to his return to the Rangers board.
"I wouldn't be here otherwise," he said on Friday. "I've checked this fully with the relevant people."
Clarifying those remarks, King added: "I haven't even approached the SFA. The comments I gave when I arrived were in relation to the AIM requirements and were nothing to do with the SFA.
"But I'm certainly very happy, when the time comes and we've something to put towards them, that it'll be fine. We just haven't got to that point yet."
Regan confirmed that he met with King in the summer of 2012 but made it clear that there has been no contact from Rangers.
"As far as we are concerned, any suggestions that he has no issues as far as the SFA's fit and proper test is concerned is a little premature," Regan told BBC Scotland.
"It is a matter that would need to be discussed by our professional game board.
"It is very clear whether someone complies with or doesn't comply with the fit and proper requirements.
"It is written down in Article 10; whether someone has convictions, whether someone has been bankrupt, whether or not there have been any other inappropriate actions."
On his discussions with King, Regan explained: "He wanted to understand the process that had to be followed if he was to be considered.
"At the time, I think he wanted to be involved in one of the consortiums (vying for control of Rangers).
"I set out to him what the process was and told him he would need to disclose fully anything he felt was relevant as far as Article 10 is considered.
"What he has is an understanding of the process, what he hasn't had is any assurances from myself of any of my board or colleagues about any proposal for him to join the board."
Rangers reported operating losses of £14m in the 13 months to June and there is nothing to stop King from investing in the Scottish League One club.
"The SFA doesn't govern the stock market," said Regan. "Rangers are a plc - shares can be bought and sold and traded on a daily basis; we can't control that.
"What we can control is someone's involvement in running the club; being on the board, being on the official return."