Wrexham want a big team in the FA Cup draw, says Rob Ogleby
Last updated on .From the section Football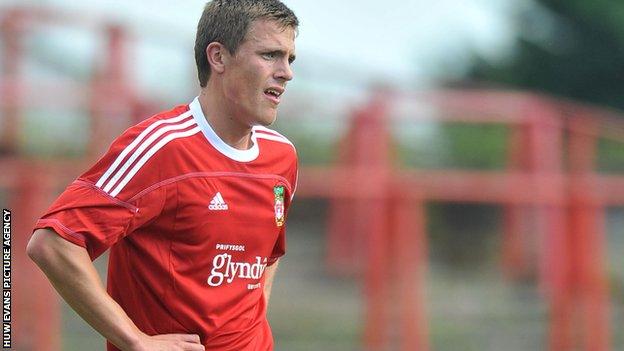 Striker Rob Ogleby says Wrexham are hoping to draw a big team in the first-round draw of the FA Cup.
Wrexham beat Hyde 2-0 in the fourth round qualifying tie at the Racecourse on Saturday.
Ogleby, 21, scored both of Wrexham's goals in each half to secure his side a place in the FA Cup first-round draw on Sunday.
"We are in the next round and, hopefully, we will get a big team and win again," said Ogleby.
"It wasn't the best of games, but we got the win and we are in the next round.
"It's four games unbeaten and we have to build on that and take that form into the league [Conference Premier].
"Once we start winning it becomes a habit and we just have to keep it going
"I think we could beat anyone with the way we are going and being four unbeaten."
Ogleby revealed Wrexham were wary of the threat posed by Hyde and were determined to make sure they got the win.
"It is the FA Cup and you always get underdogs beating bigger teams but they had a slow start to the season," said Ogleby.
"We slipped up here earlier in the season, so we were on our toes today and we got the win which we needed."
The Wrexham striker's brace of goals were his first since his first strike on the opening game of the season in the 2-1 win over Welling.
Ogleby admitted he has spoken to manager Andy Morrell about his lack of games for Wrexham.
He hopes he has proved he deserves a regular place in the Dragons starting line-up.
"It has been a frustrating season for me because I have been getting 10 minutes at the end of games," said Ogleby.
"But I have got a start and took my chances.
"I went to see him the other week to find out what was going on and he just told me to keep going and have done that and it's paid off.
"I just need to take it into next week and, hopefully, get some more goals."