Liverpool magician Luis Suarez has Anfield spellbound again
By Ben Smith
BBC Sport at Anfield
Last updated on .From the section Liverpool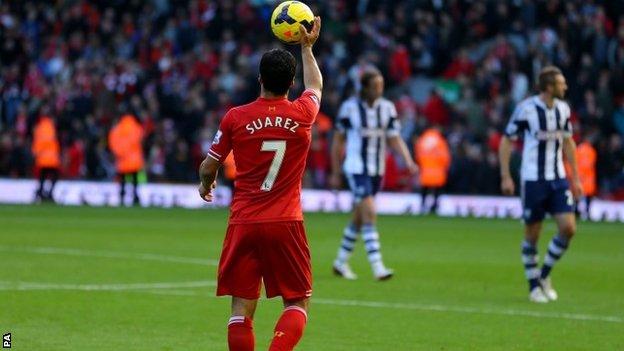 Liverpool's principal owner John W Henry is by no means a prolific tweeter.
The last time he felt moved to comment publicly on Luis Suarez was on 24 July, three months and 44 tweets ago. On that occasion, after Arsenal's infamous £40,000,001 bid, he asked "what do you think they're smoking over there at Emirates?"
On Saturday, he tweeted about Suarez again.
This time, two words were all he needed. "Luis. Magician." It was hard to disagree.
The circumstances could not have been more different, as Suarez raced around Anfield with a smile as wide as the Mersey, scoring goals for fun and burying memories of an uncertain summer under an avalanche of brilliance.
This was his first hat-trick at Anfield and few who were there to witness it will forget it in a hurry. He could easily have scored five.
When he left the field to a rapturous ovation with a minute of the match remaining, he turned to acknowledge all four corners of the ground as he went.
Liverpool fans may never have fallen completely out of love with Suarez but the attraction once again appeared mutual.
That Suarez is still at Anfield despite interest from Arsenal, owes much to the intransigence of Henry, who refused to entertain selling the Reds' prize asset.
Only a silly offer would have tempted him to sell and even then it would only ever have been to a foreign club. Henry knew that selling such an asset would affect Liverpool's prestige and he has never wanted Liverpool to be seen as a selling club.
At Anfield on Saturday, Suarez once again showed the world why Henry had fought so hard to keep him.
From the moment the Uruguayan appeared alongside Daniel Sturridge for the warm-up, he looked like a man with a point to prove.
But even before the goals started to go in, Suarez buzzed with exuberance and tore into the West Brom defence from the off.
There were moments of pure magic. The nutmeg on Jonas Olsson for his first goal was one, and there were tricks and flicks, as well as a moment of exasperation as he went down a little too easily in search of a first-half penalty.
But this was a man at the peak of his powers, happy and doing what he does best.
Even in the darkest days of the summer, the Anfield authorities always felt privately that Suarez was never going to give them a problem if they did hold onto him against his will.
Those at the training ground, those close to the squad, describe a footballer who is in love with the game.
He trains with an intensity and a spirit that you might expect of a 16-year-old trainee thrown in for a day with the first team.
The smile rarely left his face against West Brom on Saturday, and it is often his incredible will to win that has drawn him into some of the more high-profile and disappointing moments of his controversial career.
On Saturday, at least, no-one was dwelling on the past. Despite a series of relatively muted performances of late, the momentum of an excellent start to the season has been maintained by Liverpool.
Accordingly, Suarez has gone from being desperate to leave, certain Liverpool could not provide him with the Champions League football he craved, to believing he just might be able to fulfil those ambitions at Anfield next season. Time will tell.
It is understandable that the best players in the world should want to be performing on the biggest stage.
And Liverpool, despite this impressive performance, remain work in progress. But there are signs that those improvements are being made.
Everyone at Anfield is aware that failure to secure a place in the top four this season is likely to spark another summer of uncertainty over the future of their prized asset. But for now, no-one is thinking that far ahead. Liverpool fans have a player the rest of football loves to hate.
But they would not swap him for anyone.
Henry will now, no doubt, turn his attention back to the progress of his beloved Boston Red Sox in the World Series.
But on Saturday Suarez was simply impossible to ignore. And this time, it was for all the right reasons.