Pellegrini picked wrong Man City team, says Robbie Savage
Last updated on .From the section Football

In his regular BBC Sport column on football tactics, Robbie Savage looks at Chelsea's dramatic late win over Manchester City.
England goalkeeper Joe Hart has made the headlines for his latest error, which gifted Chelsea victory in the last minute.
Hart cost City a point when he dashed off his line as Matija Nastasic headed the ball back to him, and saw Fernando Torres run through and score.
City deserved a draw from their performance, and they would have got it if not for that late mistake.
But I think City boss Manuel Pellegrini got his team selection wrong - they ended up with nothing, when they should have been more ambitious in the first place.
Hart's howler - why did he come out of his area?
Chelsea's winner was Hart's fault, no doubt about it.
The goalkeeper controls that sort of situation but there was no communication from him.
Nastasic knew what he was going to do as he chased the ball back. I have been in that position myself and if Hart stays in his area, then his defender heads it back to him - it is as simple as that.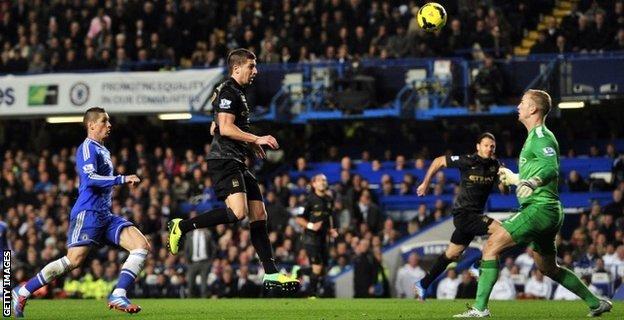 Nastasic was not even in a race with Torres for the ball; it was clearly his.
So, from the position that Hart is in when the ball is played through, he can see that Nastasic is going to get to the ball before Torres and deal with it, so he should back off.
Instead, he is caught in no-man's land.
Why Man City needed Negredo up front
I felt Pellegrini was negative in his team selection, but he came for a draw and at 1-1 it looked like job done. After a 2-1 defeat, no matter what the circumstances, those tactics do not look so clever.
Pellegrini played his usual 4-2-3-1 formation but put Javi Garcia alongside Fernandinho in the deeper midfield pairing and pushed Yaya Toure further forward as part of the trio behind Sergio Aguero. He left out Alvaro Negredo.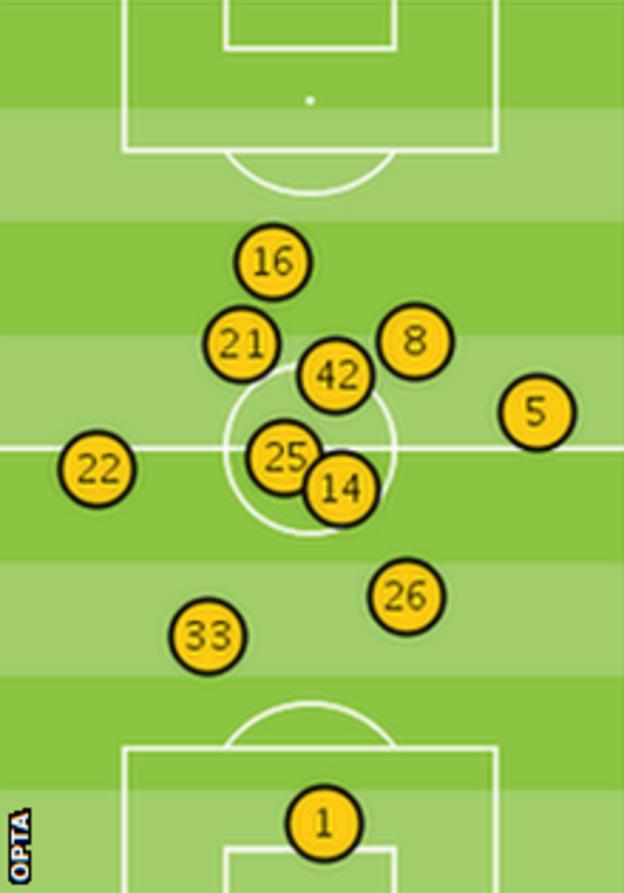 So the team was the same shape as usual but, for me, it was weakened. And I do not understand why Pellegrini left Negredo out when he is playing so well.
Yaya Toure is better than Garcia is in that deeper midfield role, and he did not make much of an impact in his more advanced role.
Playing with Toure alongside Fernandinho in the middle and having Aguero behind Negredo in attack, which is how City lined up when they thrashed Manchester United 4-1 in September, is a much stronger team.
I know why Pellegrini picked the side he did at Stamford Bridge - in order to have more of the ball in midfield - and it worked, because they frequently had more players in that area.
But having more possession did not give City a significant advantage against Chelsea.
City passed it around nicely and had 58% possession in the first half at Stamford Bridge, but that did not bother Chelsea. They were 1-0 up at the break and could have scored more goals by then too.
Chelsea did not come under heavy pressure until a spell midway through the second half, when City started getting the ball forward quicker. Their possession percentage dropped, but they became more of a threat.
Chelsea's 'problems' nothing to worry about
It was not just Hart who made a howler because all three goals at Stamford Bridge came from mistakes.
Chelsea's centre-backs John Terry and Gary Cahill were defending very deep for most of the game but, for City's goal, they kept a high line.
When you have no pace in central defence and no pressure on the ball from midfield then you have got to drop. They didn't on that occasion, and Aguero punished them - although Chelsea keeper Petr Cech should have done better with his shot.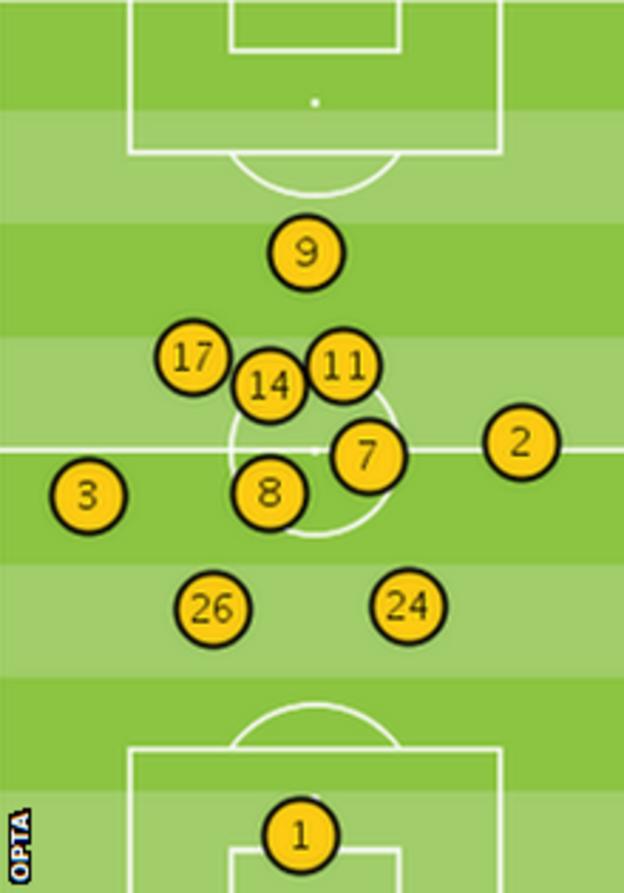 And Gael Clichy's body shape was all wrong for Chelsea's first goal. If you are a full-back and Torres has run past you on the outside from a standing start then you have got problems.
We saw every side of Torres today - he missed an easy chance, hit the bar with a wonder-strike, made one goal and scored another, just by persevering.
But I don't think Torres deserved any special praise for his performance, because really he just did his job. He is a £50m striker and he should be doing extraordinary things.
The clamour will now be that Torres is "back". You hear it every time he scores a goal but really he needs to put 15 decent performances together before we can talk about him being at the level he was when he was at Liverpool, not just one or two games.
He gets special attention and treatment because we know how good he was. I am a fan of him myself and I want to see him do well. What he needs now is consistency, not for people to get carried away.
Because, the next time he has a poor game, all you will hear again is that he is "finished".
Some people are not convinced by the rest of this Chelsea team either, but they are second in the Premier League, two points off the top and going well in Europe - it is clear their manager Jose Mourinho gets the most out of his players.
And I don't see it as a problem that Mourinho has to decide who to leave out - if you look at the Chelsea bench and see the likes of Juan Mata and Samuel Eto'o then they clearly have a much better situation than, say, Manchester United right now.
Having too many good players is not a bad thing. Like City, the size and quality of their squad is what makes them title contenders.
City and Chelsea are my top two, then Arsenal in third and Liverpool fourth. It is between Spurs and United for fifth.