Wales women's football: Jess Fishlock a doubt for qualifier
Last updated on .From the section Football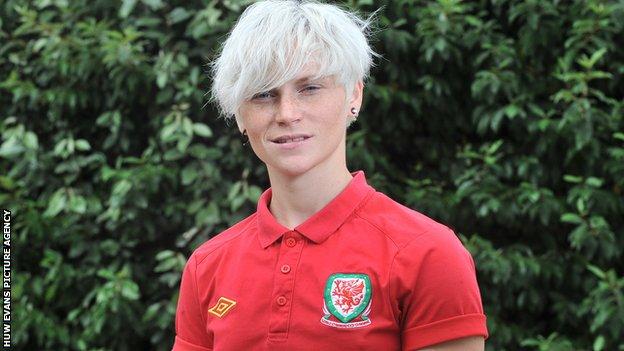 Jess Fishlock is prepared to play in Wales' World Cup qualifier against Montenegro in November despite breaking her wrist in Wales' 2-0 Group 6 defeat by England at Millwall on Saturday.
Fishlock, 26, damaged her wrist early in the game and was forced to leave the field in the second half.
"I knew straight away it was something serious," the midfielder said.
However, she hopes she may be allowed to play in a soft cast against Montenegro on 23 November.
"I went off and tried my best to get through the pain and to get the adrenaline going to get through it," she told BBC Sport Wales.
"It's a break in the wrist and arm and I knew that at the time.
"It is not anything too serious and nothing to worry about, but we are just working on getting me back playing."
Fishlock, who is on loan at Glasgow City from Seattle Reign, will have her wrist and arm in a cast for at least four weeks.
Fishlock would be prepared to wear a soft cast for Wales' trip to face Montenegro on Saturday, 23 November, although she would need permission from Fifa.
"As long as we can get a cast that enables me to play [I would wear it]," said Fishlock. "It's not my ankle or my toes or my knees, so it won't affect me that much when I'm playing.
"Right now it is just sore and painful but as soon as that dies down, I think I will be good to go, especially for the Montenegro game next month.
"I will give it as much time as it needs because you don't want it to get complicated."