Swansea were denied penalty against West Ham - Laudrup
Last updated on .From the section Football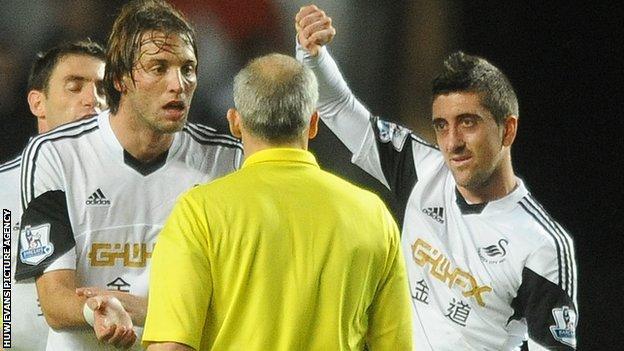 Manager Michael Laudrup felt Swansea were denied an injury-time penalty during their 0-0 draw with West Ham at Liberty Stadium.
The Swans boss felt referee Phil Dowd should have responded to an appeal for handball against Joe Cole.
And Laudrup also bemoaned the lack of penalties awarded to his side.
"Not to be funny, but maybe the fans and everybody here should buy a t-shirt to say that 'I was there when Swansea got a penalty'," said the Dane.
West Ham substitute Cole had his arm raised as he blocked a Nathan Dyer cross.
"There was a lot of emotion in the end which was about the penalty which was not given," said Laudrup.
"I know I always say that a referee or a linesman only has one second, but I mean it is so clear when you have your arm up like that.
"If you have your arm down you can talk about hand to ball or ball to hand, but when you have your arm up there and it hits you, normally nine out of 10 times it is a penalty."
The Swansea boss says the incident merely underlined a trend his side suffer.
Striker Wilfried Bony's spot kick in their on 19 October came after 56 games without a penalty, according to Laudrup.
"Of course when you have a case like this [against West Ham] in the 91st minute, there are a lot of emotions.
"But we know that the relationship between Swansea and penalties is not the best, even if we got one last weekend against Sunderland after 50-something games.
"It is a reflex because no one wants the ball in his hand, but the rules are that if you move your arm and it touches, it is a penalty. But not today, maybe another day."
In a game of few chances, West Ham's goalkeeper Jussi Jaaskelainen made two point-blank stops to deny Swans defender Chico Flores and striker Bony.
Otherwise, Laudrup was content with his side's display as they look forward to next Sunday's Welsh derby with rivals Cardiff City.