Hull boss Steve Bruce complains of 'joke decision' at Spurs
Last updated on .From the section Football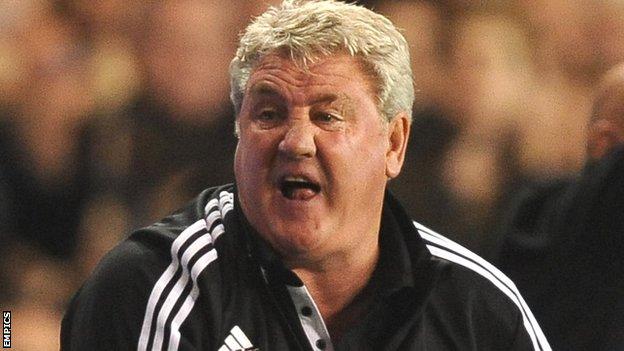 Hull manager Steve Bruce said his side were denied a point at Tottenham by "a joke decision".
Roberto Soldado's after referee Michael Oliver decided Ahmed Elmohamady had handled the ball.
"I feel for the team and the supporters, to be denied the point that we deserved," Bruce said.
"It's a joke decision. I shouldn't say this and I might get fined, but would we have got it? I'm not so sure."
Bruce's side frustrated Tottenham for large periods, with the home side restricted to long-range efforts from Andros Townsend and Kyle Walker in the first half.
Steve Harper then made a great save in the second half to deny Soldado before referee Oliver gave the penalty with 10 minutes left.
Jan Vertonghen's cross from the left was blocked at close range by a raised arm from Egyptian Elmohamady, but Bruce was adamant the decision was harsh.
"We've got men in there that have been robbed," he said.
"It hits his leg for a start and then goes up and hits his arm. How do you give a penalty in that situation?
"We have more directives and meetings and all this nonsense, and they are all getting assessed up in the stands, but then they give decisions like that which just baffles me and I have to ask the question, would we have got it?
"The players are desperate to play in the Premier League but they are questioning it because of a joke decision. [The referee] couldn't wait to give it."
Bruce spoke to Oliver at full-time but said: "After the game we spoke, but what difference does it make?
"It is the same old thing. He's ballsed it up. If my player made a decision like that I wouldn't be playing him next week and if I kept making decisions like that I would get the sack.
"Villas-Boas absolutely, totally agreed. He is going to go and see it and know it is a soft one and in my opinion it is not right, not for the stakes we are playing for - a big game, at White Hart Lane and he has robbed the players of a well-earned point.
"We could get relegated by a point - you never know, it is too early yet, but it is what it is."
"It was a harsh decision, difficult for the ref to judge," "Sometimes they are not given and Brucey will be devastated by that decision."