Michel Platini: World Cup should be expanded says Uefa boss
Last updated on .From the section Football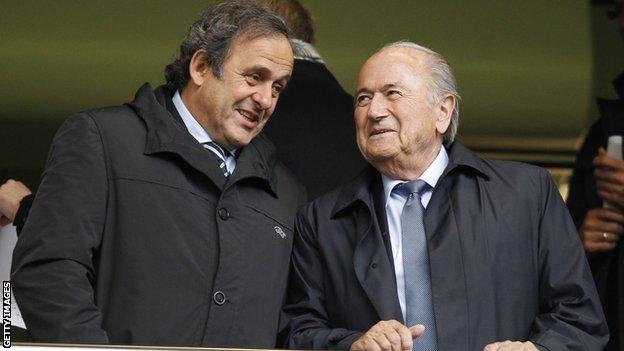 Uefa president Michel Platini wants the World Cup expanded from 32 to 40 teams.
"Instead of taking away some European [nations], we have to go to 40 teams in the World Cup," Platini told The Times.
"We can add two African, two Asiatic, two American and one from Europe. I support this idea totally."
The first World Cup in 1930 had 13 nations competing, growing to 16 four years later and 24 in 1982, with the increase to the current 32 teams taking place in 1998.
Europe has 13 slots in the current set-up, while Africa has five and Asia four plus a play-off place.
Platini's idea for 40 teams would see eight groups of five at the World Cup as opposed to the present structure of eight groups of four.
The move could come in for the 2018 tournament in Russia and, according to the former French international, would mean the competition being extended by three days.
"Football is changing and now we have 209 associations," said Platini, who is expected to challenge Blatter for the Fifa presidency in 2015.
"There are more countries so why reduce? Forty is not so bad.
"You have three days more of competition and you make more people happy."