Norwich City: Leroy Fer says 'goal' against Cardiff City should count
Last updated on .From the section Football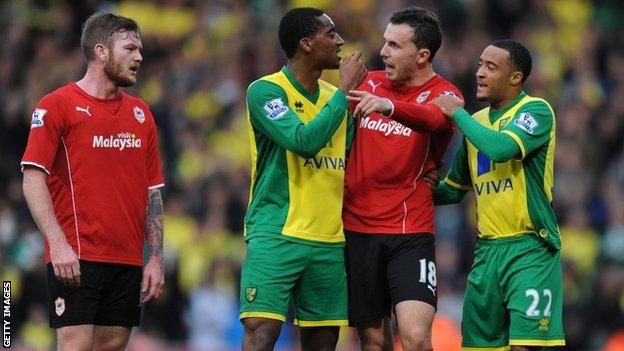 Norwich City midfielder Leroy Fer believes his disallowed goal in the 0-0 draw with Cardiff should have counted.
Fer, 23, rolled the ball into Cardiff's net after the Welsh team had conceded a throw-in to allow an injured Norwich player to be treated.
But referee Mike Jones disallowed the stoppage-time effort because he had not blown his whistle to restart play.
"The referee did, like, 'play on' with his hands. That's why I think the goal had to count," said Fer.
"He gave the signal with his hands," Fer told BBC Radio Norfolk. "But then he said he didn't blow the whistle and that's why he didn't allow the goal.
"So, I'm a little bit confused on that one. But I want to win every game, and that's why I did it.
"But the main reason [we didn't win] is because we didn't score despite creating 30 chances. That's really disappointing."
Both Cardiff manager Malky Mackay and Norwich boss Chris Hughton initially indicated they did not believe Fer's action had been deliberate, but the Netherlands international insisted that he did mean to score.
"I did mean it because I wanted to win the game," added Fer.
The midfielder also said that he was encouraged by the Canaries' performance, with games at Manchester United in the Capital One Cup and then Manchester City in the Premier League to come this week.
"We have to stay strong together because it's going to be a hard week," he added. "But we showed we can create chances and I think the goals will come."