Scottish FA faces Fifa probe over Croatia flare at Hampden
Last updated on .From the section Football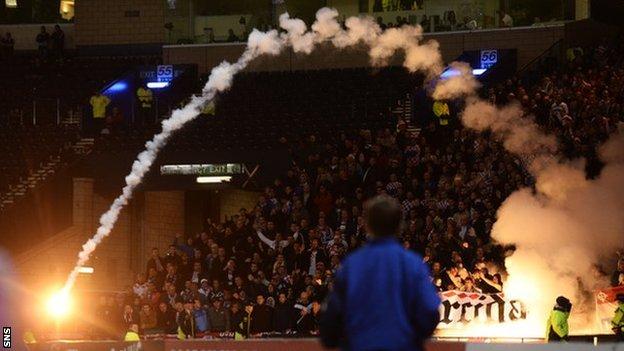 The Scottish Football Association faces disciplinary action after Croatia fans set off a flare during this month's World Cup qualifier at Hampden Park.
Travelling supporters fired the flare on to the track around the pitch during the Group A match on 15 October.
But the SFA could be punished along with the Croatian federation because it was responsible for security.
A spokeswoman for world governing body Fifa confirmed that it was investigating incidents at the game.
Visiting fans also let off smoke bombs during the match - won 2-0 by Scotland.
The flare that reached the track was mentioned by Romanian referee Ovidiu Hategan in his match report sent to Fifa.
"We can confirm disciplinary proceedings have been opened against the SFA and the Croatian Football Federation for incidents reported during the preliminary competition match of the 2014 Fifa World Cup Brazil between Scotland and Croatia on 15 October," said the spokeswoman.
"As the proceedings are ongoing, we cannot comment further."
The SFA has declined to comment at this stage.