Declan Devine denies dressing-room split at Derry City
Last updated on .From the section Football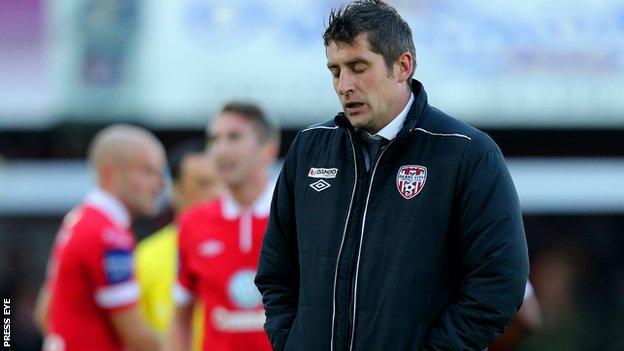 Declan Devine insists he did not lose the backing of the Derry City players following his departure as manager.
Devine admitted he had been keen to stay in charge for a third season, but was relieved of his duties on Sunday.
The outgoing boss refused to criticise the board of directors and said he is proud of what he achieved during his two years in charge.
"It's difficult to accept because I still believe in my ability, but I'm grateful for the opportunity," he said.
Rumours of Devine's demise had been circulating prior to Friday night's final league game of the season against Limerick, which Derry won 6-0.
Devine, who spent 14 years at the club as a player, coach and then manager, accepted that one or two senior players did not give him full support throughout the season but denied that was a factor in his departure.
"You're always going to have a couple of players that maybe aren't on side," he admitted.
"It was detrimental in terms of team spirit but you saw the young players galvanising the club and showing the energy that was required, which was refreshing for me.
"I'm big enough and man enough to know what's going on behind the scenes, you hear every rumour, but I'm very grateful to the board for the opportunity they gave me to manage a club that I have a lot of love for.
"In terms of the players, they gave me everything.
"Predominantly the senior players have been great for me in my time, and I wish them all the best in the future."
Devine won the FAI Cup in his first year in charge and guided the Candystripes to a fourth place finish in this season's League of Ireland.
It will be enough to secure a European spot if Sligo Rovers beat Drogheda United in next weekend's FAI Cup final.
"In such a short period of time, I'm extremely proud of the job I've done," said Devine.
"I'm a local lad who never had managerial experience.
"It's been a huge period of my life being involved at the football club but I believe I will learn personally from the mistakes I have made and I'll push on from that."
Devine, 40, believes he has a bright future in the game and revealed he has already spoken to a number of interested parties.
"I've had a huge role in developing a lot of young players throughout Derry in the last fourteen years and I look forward to the future," added Devine.