Cardiff City v Swansea City: Steve Borley and Leigh Dineen on rivalry
Last updated on .From the section Football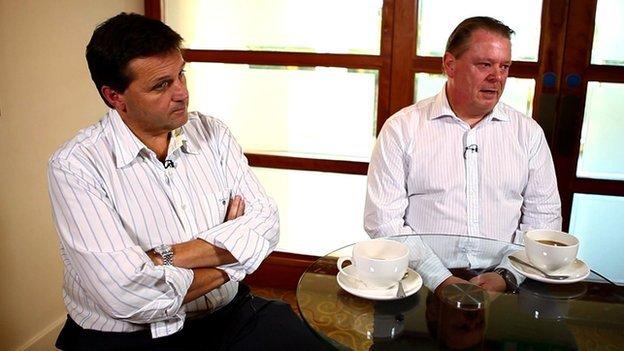 The BBC Wales documentary Bluebirds and Swans brought together two south Wales-born businessmen who have forged a friendship through football, but who are divided by club loyalties.
Ahead of the first Premier League derby between Cardiff City and Swansea City on Sunday, Bluebirds director Steve Borley and Swans' vice-chairman Leigh Dineen mulled over their clubs' fortunes and historic rivalry.
Borley believes the intense competition between the two clubs developed after Cardiff-born and ex-Bluebirds striker John Toshack left Liverpool in 1978 and became player-manager at Swansea.
"Toshack wanted to come back to Cardiff and the then manager Jimmy Andrews wouldn't take him," said Borley who used to watch games from the Bob Bank at Ninian Park.
"He [Andrews] felt he was going to be a threat to his own position and so Tosh went down the road to Swansea, and they never looked back.
"Tosh took Swansea from the fourth division to the first division and unfortunately we were on the slide the other way.
"I think up until that point there was never any real rivalry between the two clubs.
"Cardiff were in the wilderness and seeing Swansea's success at that time was really difficult for our fans to accept."
But Swansea's demise was as dramatic as their rise and soon they found themselves in the wilderness alongside Cardiff in the lower reaches of the Football League.
Dineen became involved with Swansea in 2002, a turbulent time for the club on and off the field which almost resulted in relegation to the Conference.
But the stability which the new board brought, as well as a move to the Liberty Stadium saw Swansea City prosper.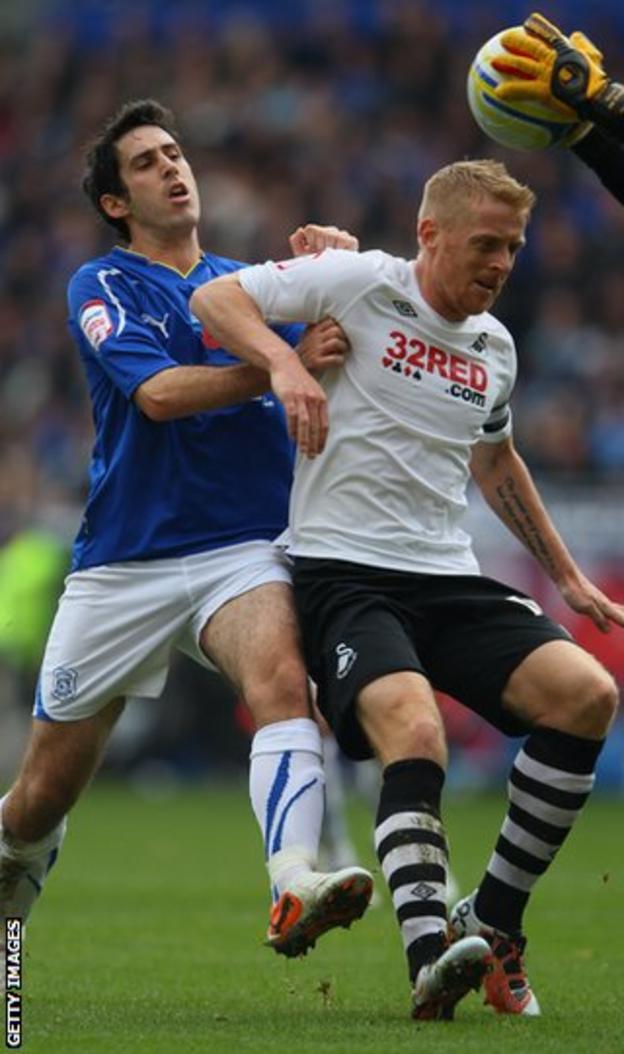 Steady progress up the league culminated in promotion to English football's top-flight in 2011 with Swansea becoming the first Welsh club to reach the Premier League.
"If we're completely honest we felt that we had to be the first ones there," Dineen said.
"We've come relatively slowly to where we are. We didn't have the investment behind to have pushed any quicker,"
"If Cardiff were to get there before us I think it may have taken us a lot longer to have got where we wanted to be.
"It would have been a step back in the dynamics of the brand et cetera. We were glad that we were the first ones to get there."
Swansea's promotion was achieved 12 months after Cardiff had missed out after play-off defeat to Blackpool.
Borley says Swansea's success strengthened Cardiff's resolve to reach the Premier League after previous disappointments.
"We saw the effect it had for Swansea but we already knew the effect it would have to be in the Premier League," said Borley, a former Bluebirds chairman.
"I think it just strengthened our resolve that we had to do it. Too often we were the nearly club and we needed to get into the Premier League."
Cardiff finally achieved promotion by winning the Championship and will renew acquaintances with their rivals in what will be the biggest south Wales derby of all.
Ahead of the first match between two Welsh sides in the English Premier League, there is nothing but respect and friendship between Borley and Dineen.
"When we got promoted one of the first messages I had was from Leigh saying: 'Welcome to the Premier League'," Borley recalls.
"I like to think the two clubs' board of directors have always got on well. We've never had any issues with one another."
"We're from south Wales at the end of the day and we talk football and get on great," added Dineen, who was introduced to the Swans by his grandfather.
"We have a good old chinwag when we do play each other. We sit down, have a bite to eat and just enjoy the day.
"When we sit down for the 90 minutes we don't glance sideways then. It's very much blinkered.
"But … I think every time the game's been played and whoever's won there's always been a handshake and a 'well done'."
"It's amazing you've got two Welsh clubs being beamed to 220 countries all around the world," Borley said, looking ahead to Sunday's game at Cardiff City Stadium.
"It's certainly going to put Wales on the map."