Inverness: Terry Butcher anger over abandoned game cards
Last updated on .From the section Inverness CT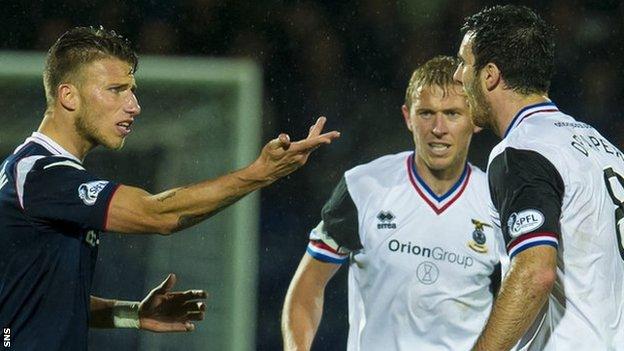 Inverness manager Terry Butcher is angry that bookings picked up during Friday's abandoned Highland derby will still count.
Ross Draper and Marc Warren were both cautioned along with County's Kevin Luckassen and Melvin De Leeuw.
A half-time power failure forced the match to be abandoned, but Scottish FA rules state that bookings will stand.
"Now, I'm very, very angry about this and I speak on behalf of Ross County here," Butcher told BBC Scotland.
The Inverness boss added: "In effect, our season in league games is 38-and-a-half matches. How can that be?
"How can we have 45 minutes more than other teams in which our players can get cautions?
"I fail to see how, if the score doesn't count, why should the bookings?
"In history, you'll see that the match was abandoned and there will be no other records apart from the bookings.
"I understand if there's a sending off. If a red card is issued, that carries forward for violent conduct or whatever, but not bookings."