Gary Mills committed to Gateshead despite Forest Green interest
Last updated on .From the section Football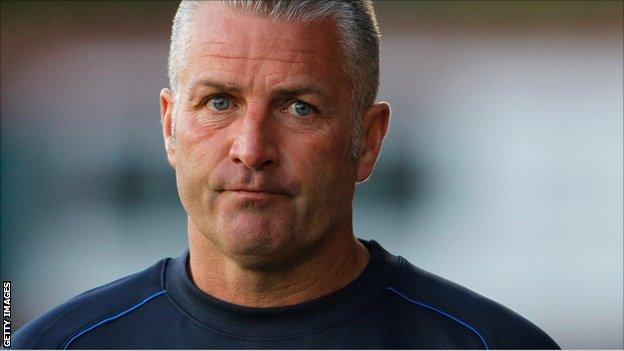 Manager Gary Mills has said he will continue the work he has started at Gateshead, despite interest from Conference Premier rivals Forest Green.
Rovers made approaches to Gateshead chairman Graham Wood to speak to the former York City manager, which were rejected by the Tynesiders.
Mills then confirmed his commitment in a meeting with Wood on Monday, after Saturday's FA Cup win at Chester.
"I want to make this club a success," Mills told BBC Newcastle.
"I've had to make a decision but not for one second in that decision making has there been anything negative about this club.
"I love the area and I love the football club, we've got everything at this football club to succeed."
Rovers, who like Gateshead are battling to win promotion to the Football League from the Conference this season, have been well backed by chairman Dale Vince and recruited extensively during the summer in their bid to achieve their goal with signings such as Anthony Barry, Andy Mangan and Daniel Wright.
However the Nailsworth club have struggled to impose themselves on the division under Dave Hockaday, who parted company earlier this month, and had looked to Mills, who won promotion with York City, as an ideal candidate.
"It's something that has come about the last few days, they made an approach to the chairman and quite rightly they refused permission to talk to me," Mills added.
"The situation is and was that I'm very happy here. I spoke to chairman, expressed how happy I am and what I want to do at this football club.
"I want to stay to do the job I have come to do and that's to get the football club back to where the chairman wants us to get them to."
Mills' arrival at Gateshead following a disappointing start to the season under Anth Smith has brought clear improvement, with one defeat in eight - at the hands of Forest Green - lifting the club to within two points of the play-offs and a place in the first round proper of the FA Cup.
"It's not been a nice few days because when this happens, when a club shows an interest it's flattering and we all know what Forest Green Rovers are looking to do over the next few seasons abut I've come here to do a job," he continued.
"The chairman came to get me and we had a good chat, I feel it is right for me [at Gateshead] and between us we can achieve what we want to do. we're doing things with a smile on our face and we'll do it together and that's what's been nice so far we've been together and the players have embraced and loved the work ethics.
"Everyone makes decisions in life and I see no reason to go from here because it is right for me."
Chairman Wood added: "It was the nightmare scenario to hear of Forest Green's interest.
"I can understand but I wasn't appreciative of it when he is in work and there are some very good managers out of work.
"Having said that i can't be hypocritical as I might have done it myself in different circumstances.
"It was a worrying time but I'm delighted with the outcome."