Truro City: Steve Massey says team 'inches away' from success
Last updated on .From the section Football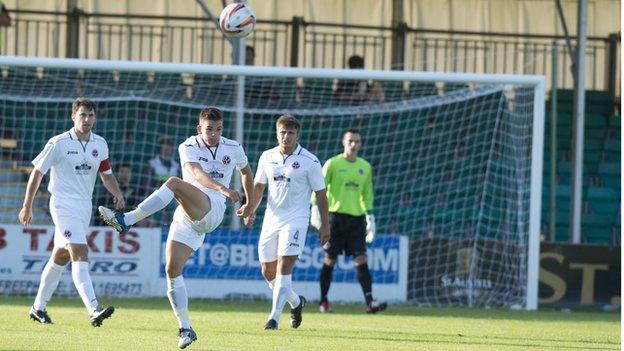 Truro City boss Steve Massey says his side are desperately close to turning their fortunes around despite suffering another league defeat.
Saturday's 1-0 defeat by Cambridge City left Truro in 20th place in the table.
"We're inches away from the side I want us to be. Everyone in the dressing room knows," he told BBC Radio Cornwall.
"It may seem strange from the outside about what we are building here but I'm relishing being able to stand here and say 'this is my team'. It's coming."
Truro are still waiting for their first home win in the league this season, but Massey is convinced his squad will start to climb the table soon.
"We are on the right track. There is a group of players here who are experienced, knowledgeable and talented," he added.
"I know I sound like a stuck record but the results will come - they have to.
"There's something very exciting happening here.
"It was totally frustrating - I thought we dominated throughout but they were clinical with their chance.
"Their keeper is probably the third goalkeeper who's come here and had a magnificent game. Frustrating is a word I keep using and it's another game we should have got points from."
Massey has made several signings in recent weeks, and admitted the club has moved away from their transfer policy of targeting local young talent.
"This is a very talented group of players and I've brought them here," said Massey.
"We're working to mould them into a team - this group has been together maybe three or four weeks and yes, we've changed the focus from just youth. We needed the experience because this is a ruthless league.
"This team has evolved and the team is coming together and people need to be a little bit patient, but I know that the majority can see what were doing.
"We'll keep working hard to turn it around and I'm really relishing it because its going to taste even sweeter."