Sir Alex Ferguson: Manchester United can recover to win league
By Alistair Magowan
BBC Sport
Last updated on .From the section Football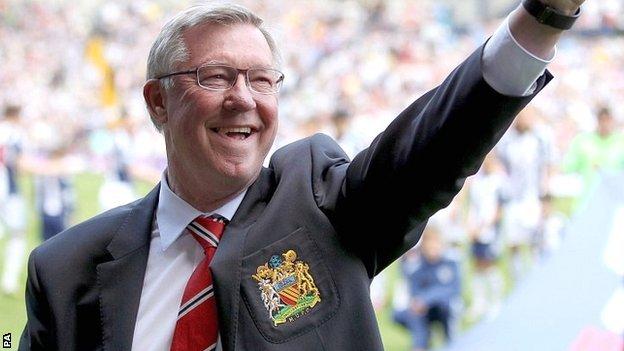 Former Manchester United manager Sir Alex Ferguson says the team can overturn a poor start to win the Premier League, despite being eight points adrift of leaders Arsenal.
"We had bad starts to the season many times," 71-year-old Ferguson said.
"We are the only club in that league that can come from behind to win the league because of our history."
Ferguson, who remains a club director, retired from the manager's position at the end of last season after winning 38 trophies in a 27-year reign.
And Moyes has struggled to win over some fans after a stuttering start to his United career.
But speaking at the first in a series of Q&A sessions following the release of his second autobiography, Ferguson underlined the unique pressures that came with the job.
He also defended his reasons for publishing the book in which he criticised former players such as Roy Keane and David Beckham, adding that it was "astonishing" that he only had "six issues with players" during his time at Old Trafford.
"I wrote the book for the fans, to help them understand why I had to make certain decisions," he said at a sold-out Lowry Theatre in Salford.
"[It was] not for the press, that was a book to help people understand how difficult the job is at Manchester United. It's a massive job, it's the biggest in the world."
In 'Alex Ferguson: My Autobiography', which was released on Thursday, Ferguson stressed that many of his decisions were made in order to maintain control at the club.
And he re-emphasised that in front of a 1,700-strong audience, which included Moyes, fellow club director Sir Bobby Charlton and United legend Denis Law.
"In 27 years at the club, I probably only had six issues with players," he said. "That's astonishing.
"Of course you have to make decisions for the benefit of the club, and you become unpopular with the players as you have seen from the reaction this week.
"But that's part of my job to protect the standards of the club, the discipline of the club and make sure the players respect you as manager. I'm the manager and no-one else."