Chairmen 'think black players not educated enough' to be managers
Last updated on .From the section Football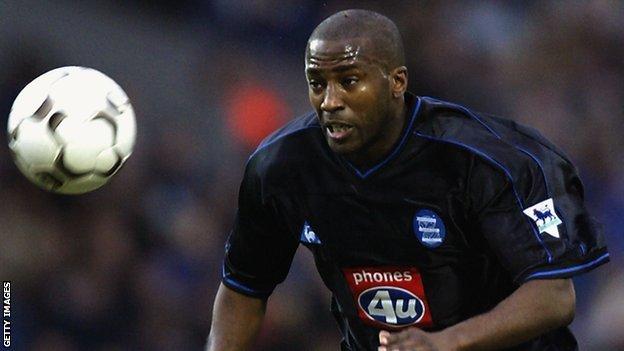 Football chairmen think black players are not "educated enough" to become managers, says Birmingham academy coach Michael Johnson.
"The stats are alarming. There does seem to be a trend that we are not getting opportunities," said Johnson.
Fifa's anti-racism chief Jeffrey Webb recently told the BBC black players in England were "demoralised".
"We have three black managers at the helm and when you look at boardroom level, we have none," Johnson told BBC Radio 5 live.
"I think it's a lack of education from the guys upstairs, the board members who seem to think that black players are OK to go and play for their club, but when it comes to managing or stepping upstairs into the boardroom, that might be a problem.
"I wouldn't say it's racist but I think there are some severe problems with some people maybe not thinking that a black player is educated enough to go upstairs in a boardroom capacity.
"A black player may be well thought of as a player, but may not be thought of as a manager in their eyes.
"I think it is a lot of ignorance on the part of some of the owners and people at boardroom level, who suggest we are not good enough to go in there and fill the boots in certain positions - especially at the Premier League and Championship levels."
Johnson played for Birmingham during their promotion season in 2001-02, in a career that also took in spells at Derby, Notts County and Sheffield Wednesday.
The former Jamaica international had a two-game stint as joint caretaker manager of Notts with Dave Kevan following the sacking of Ian McParland in October 2009.
Webb, Fifa's anti-racism task force chief, had earlier said that many non-white players felt they did not get chances to move into coaching or management.
He explained: "Many of them are becoming very demoralised and these are issues of course that we hope the FA will take on and that of the Premier League."