Northampton Town: Aidy Boothroyd aims to bolster attack
Last updated on .From the section Football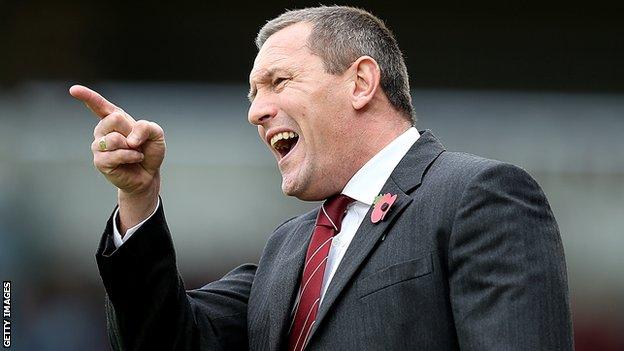 Northampton Town boss Aidy Boothroyd's search for another striker goes on after they missed out on a target.
Boothroyd said: "We move onto our next target. It has got to be the right one. We do need to bring someone in.
"We may be in a situation where we have Luke Norris [on loan from Brentford] and Jacob Blyth - that'd be brilliant."
Blyth scored three goals in eight appearances on loan from the Foxes prior to picking up a thigh injury, while Norris has scored three goals in three games since arriving from Griffin Park.
Boothroyd will speak to Brentford about extending Norris's stay beyond 18 November, and also hopes to keep Stuart Dallas beyond 5 November, after his two goals in five appearances.
"Jacob has got a couple of weeks at training [with Leicester] and then hopefully we should have him to finish off his loan with us.
"I've told him he'll get more opportunities to score than at most teams because of Chris Hackett, Stuart Dallas and Ishmel Demontagnac, when he plays. We will create chances for strikers."
But Boothroyd has admitted to being "irritated" with the Cobblers' performance in the 1-1 draw with Cheltenham, and their position of 23rd in League Two.
"We've got to step up," he said. "I was disappointed on Saturday - we're better than that.
"I don't think we're too far away but I can't keep saying that. This is not where I expect to be - we are underachieving.
"Our league position does upset me, and it irritates me. When I look at where we started at, where we got to and where we are now, we've got to be doing better than what we are.
"I'm sure that had it been a different chairman, when we didn't start very well, I might've been off. Thankfully, he knows I'm in it for the long haul."
Northampton have been drawn away to Conference South side Bishop's Stortford in the first round of the FA Cup, and Boothroyd admits it's a dangerous tie.
"It's a big banana skin," he admitted. "We're stuttering to find our form from last year on a consistent basis.
"No doubt there will be a team that won't get through against a non-league team. But I love the FA Cup, the romance of it, and we want to go as far as we can."