Wolves midfielder Jamie O'Hara removed from transfer list
Last updated on .From the section Football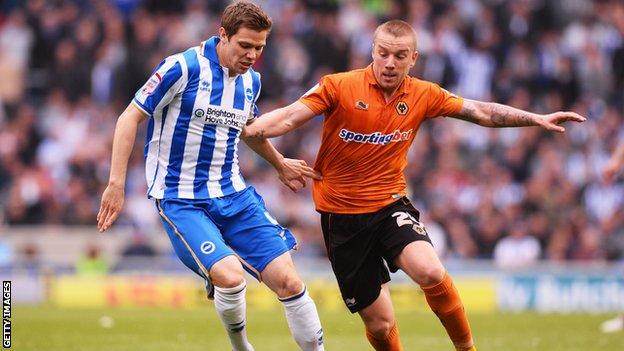 Wolves midfielder Jamie O'Hara has been taken off the transfer list and is back training with the first-team squad.
The 27-year-old was made to train with the club's Under-21 squad after head coach
O'Hara was a surprise inclusion on the bench for but did not play.
"The last four months has definitely humbled me and made me appreciate how much I love playing football," he said.
"I want to be at this club and I'm grateful Kenny has given me a second chance.
"This has definitely been a low point in my career but hopefully I can have a fresh start," he told the club's website.
O'Hara, a former England Under-21 international, arrived at Molineux from Tottenham Hotspur in 2011, initially on loan
During his loan spell, he played 14 of Wolves' 15 matches, but since then he has endured an injury-ridden career at the club, playing less than half their games in the previous two seasons.
He was part of the squad that suffered consecutive Premier League and Championship relegations in 2012 and 2013 and, when Jackett became head coach.
"I hope it's a positive with him being on the bench. Any type of competition created will be beneficial for the club," added Jackett.
"We will see whether he can earn a place and put his useful performances for the Under-21s into the first team."