Yaya Toure the lone African on Fifa world player list
Last updated on .From the section Football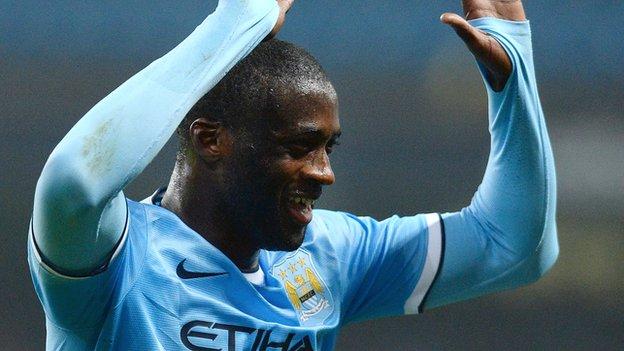 Ivory Coast and Manchester City midfielder Yaya Toure is the sole African player on the the 23-man shortlist for the Fifa men's world footballer of the year award.
It is indicative of the state of African football - and the lack of achievement by African teams.
At recent World Cups, particularly in South African in 2010 - where there were six African sides in the tournament and only Ghana got past the first round - teams from the continent have failed to deliver.
And it has fuelled the perception that African football has a long way to go to be considered to be at the highest level.
Then add to the mix the fact that really big recent superstars of African football - such as Didier Drogba, Samuel Eto'o and Michael Essien - have all passed their prime, are not playing as much football, nor winning as often, as they used to.
The previous nine lists have featured Eto'o and Drogba eight times each, while Essien has been nominated four times.
So it's easy to reach the conclusion that with the trio's careers fading, African football is in a bit of a trough.
Not that it has ever been a dominant force; only two African players have ever finished in the top three of the world player of the year list - George Weah won it in 1995 and was runner-up the following year, while Eto'o was third in 2005.
Toure will not change that statistic this year. I think Manchester City's failure to win the Premier League last season probably counts against him.
Another minus against him has to be his club's devastating defeat against Bayern Munich in the Champions League earlier this month, when Toure was at the heart of a midfield that was outplayed.
As for other potential candidates who did not make the list, the stark reality is that Toure may be the only truly world-class African player at the moment.
Ghana captain Asamoah Gyan has done well at international level but I still wouldn't rank him in the top 50 players in world football - his decision to leave English Premier League side Sunderland to play in in the United Arab Emirates for Al Ain, I feel, gives credence to that judgment.
Another to miss out on nomination who might have been in the minds of some people was Moroccan playmaker Younes Belhanda. But he had a poor last season for Montpellier before he left to ply his trade in Ukraine this summer.
I feel it is fair to say that neither Gyan nor Belhanda are of a world-class standard, although they have done well on the African circuit.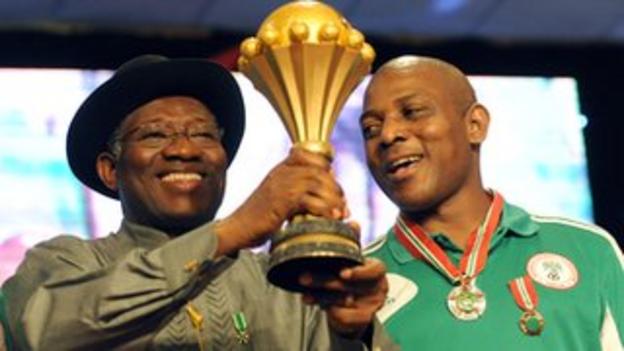 However, while I cannot argue a case for the inclusion of more African players on Fifa's world list, I feel strongly that there is a glaring omission from the list of coaches of the year.
I believe it is scandalous that Nigeria coach Stephen Keshi has not been named among the 10 men on the shortlist.
That he has stayed in the job for two years, overcoming all the backroom intrigue and Machiavellian moves that a Super Eagles coach must face, itself makes him worthy of a nomination.
And then let's look at his record. He led an inexperienced side to the Africa Cup of Nations title in South Africa at the start of 2013 - the first time for 21 years that a black African coach had won the trophy.
Before the tournament, he was laughed at for his squad selection, for putting too much emphasis on local players and leaving out established stars such as Peter Odemwingie.
Keshi took gambles with little-known players he saw something in and he proved his critics wrong as Godfrey Oboabona, Sunday Mba and others came good at a vital time - indeed it was Mba who scored the winning goal in the final.
To win the Nations Cup on foreign soil with an untested side speaks volumes about Keshi's ability as a coach. That he is not on the Fifa list is a travesty.
Perhaps achievement in the Nations Cup is not given the value it should by those who select the shortlist. Maybe the make-up of the panel should be looked at to give it a more global feel. It seems as though every year, the shortlist is dominated by coaches working in Europe.
In Africa, we understand that European football is the centre of the world game. But it is a world award and surely Keshi deserved a nomination.