Cristiano Ronaldo: Sepp Blatter's apology to Real Madrid
Last updated on .From the section Football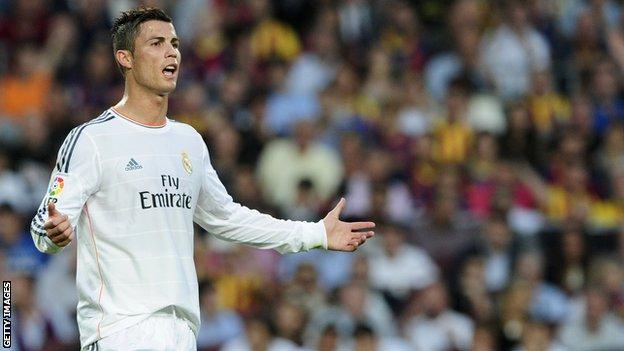 Fifa president Sepp Blatter has written a letter of apology to Real Madrid president Florentino Perez over comments mocking Cristiano Ronaldo.
Madrid reacted angrily after Blatter made a joke at Ronaldo's expense while addressing the Oxford Union on Friday.
Asked to compare the Madrid player with Barcelona forward Lionel Messi, Blatter said: "One has more expenses for the hairdresser than the other."
Blatter explained to Perez he had meant the comment as an "amusing" aside.
In his letter, the Fifa president added that he has "huge respect" for the former Manchester United forward.
He has also apologised for any offence that may have been caused.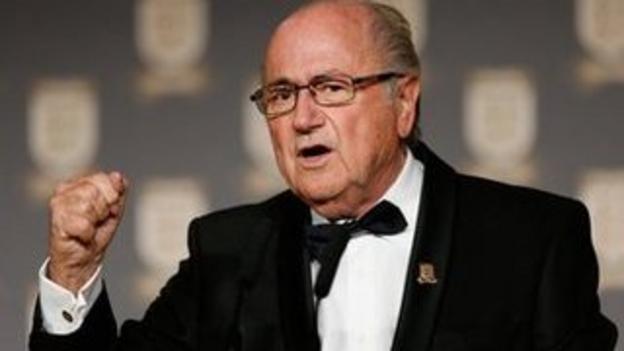 "I want to clarify that for me Cristiano Ronaldo is at the same level as Messi and they are both outstanding players, each in their own way. Sorry that this situation produced in a university event hurt as much and I apologise for it," he wrote.
"It was never my intention to embarrass or disrespect to Real Madrid, or one of their players or their fans."
Earlier on Tuesday, Real Madrid said Blatter's comments lacked respect and that they were seeking a retraction.
Ronaldo has since taken to his Facebook page to express his anger, writing: "This shows clearly the respect and consideration that Fifa has for me, for my club and my country."
Madrid president Florentino Perez earlier said the Blatter comments were disrespectful to Ronaldo.
"On the one hand, they are unfair to a football player who millions of fans around the world, Real Madrid or no, they are proud. This is without doubt one of the best players of all time," he said.
Madrid coach Carlo Ancelotti added: "I'm completely in agreement with our president.
"He's sent a letter to Fifa asking to retract what I consider to be a lack of respect to a very professional player."
Ancelotti said he had not spoken to Ronaldo about Blatter's comments but confirmed the Portuguese star "trained very well today, as always".
"He's shown every day that he's a great player, serious and professional, respectful to everyone and he has to continue like that," added the Italian manager.
Ronaldo and Barcelona star Messi are both on the 23-man shortlist for Fifa's Ballon d'Or award, with the winner to be unveiled on 13 January in Zurich.
Messi has won the award for the past four years, with Ronaldo finishing runner-up to the Argentine in 2009, 2011 and 2012.