Morton: Allan Moore hopes for merrier times in Greenock
By Clive Lindsay
BBC Scotland Sport
Last updated on .From the section Morton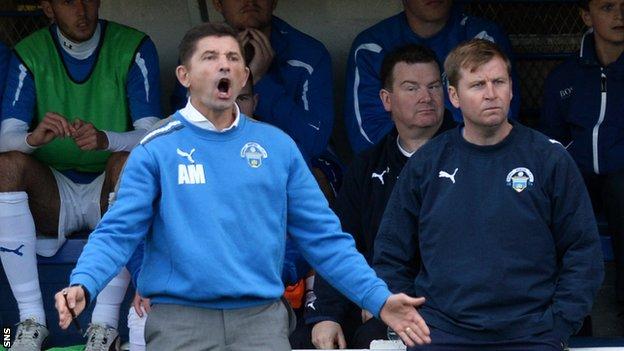 Allan Moore has retained his famed sense of humour despite despair at the recent death of his brother and pressure as manager of underperforming Morton.
Long-time friend Danny Lennon, who himself suffered calls for his dismissal as St Mirren boss this season, has been providing some comforting words of advice for the Scot renowned for bearing a striking resemblance to comedian Lee Evans.
Those were much needed as a 5-1 hammering by second-bottom Cowdenbeath left Morton stranded at the foot of the Scottish Championship.
"I stood at Cowdenbeath when the first goal went in and I thought to myself, what have I done to deserve this?" admitted Moore.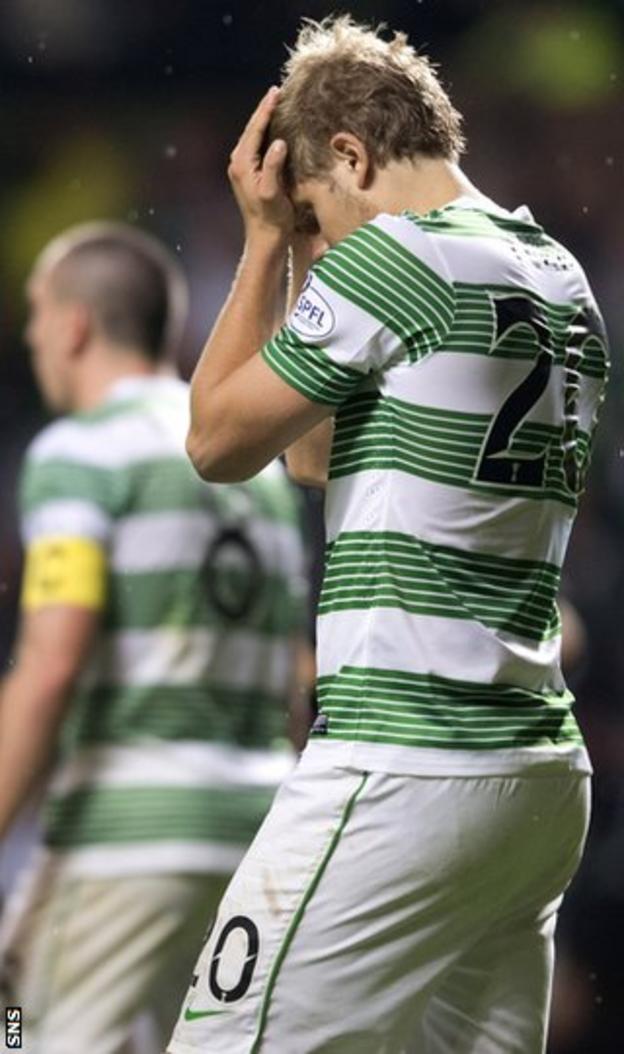 "And, when the second one went in, I thought: I married my wife, Kim, that's what it is!
"I should have married Danny Lennon and got rid of the missus. Danny's got more money than the wife, so I would be quite happy to marry him."
Moore's chirpiness has been tested to the limit since his side caused the shock of the Scottish football season so far by beating league champions Celtic on their own patch on 24 September to progress to this week's League Cup quarter-finals.
The day after that famous win, the 49-year-old learned that his elder brother, Steven, had died while on holiday in Turkey.
"I've had a hard couple of weeks, there's no doubt about that," said Moore, whose side face one of his former clubs, St Johnstone, on Wednesday for a place in the semi-finals.
"After such a great success against Celtic, I didn't get a chance to enjoy it and it still hurts us now to be honest.
"I'm awful deep with things like that and it's not fair - I take it out on my wife and family, because I go home and don't talk to them.
"I don't think I've been out my bedroom for 10 days, to be honest, or more than that since my brother died unless I'm coming to training.
"I'm not like that character-wise, but what's happened in my personal life and the way the football's going has magnified it."
Local rivals St Mirren have come through their own downturn in form under pal Lennon.
"I take great strength from speaking to Danny Lennon." said Moore, who has also confided in Wigan Athletic assistant manager Sandy Stewart.
"He was in the spotlight 10 times more than me, maybe 100 times more than me with the run St Mirren's gone on because they're a Premier League team.
"But the wee guy's got strength of character. He gave us a book last year, A Motivated Way of Life, but unfortunately my daughter was going through a bad time and she took it, but she's just given it back to me.
"She said, 'Dad, you need that book more than me now', so I've started reading it again. It is about having a positive attitude in the darkest times and it's a great help to me.
"I've spoken to Danny over the last couple of weeks when it's not been going right for him.
"My other best pal in football is wee Sandy Stewart, who went through hard times at Bolton and has been sacked at Burnley and I've been asking for his advice about it."
Moore admits that he and assistant Mark McNally have been left baffled by their side's ability to beat Celtic and draw with Championship leaders Hamilton Accies yet lose to lesser opponents.
However, he believes the Greenock outfit, recently bolstered by the addition of former Rangers striker Nacho Novo, can yet rescue their season, and his own job in the process, by reaching the promotion play-offs.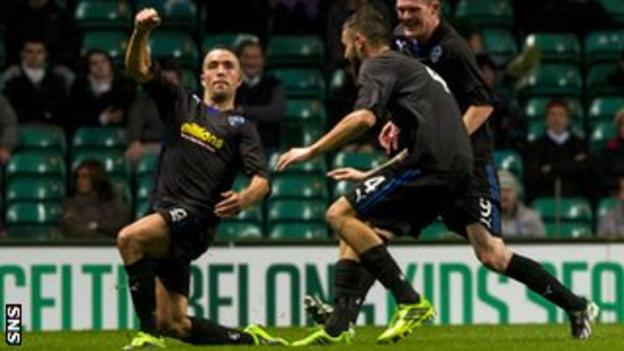 "If you're sitting bottom of the league after 10 games, any manager is going to be concerned about their job," admitted Moore, who numbered Morton among the clubs with whom he starred as a winger.
"The chairman's given me his full backing. He's come out in the papers and spoke to me personally.
"I'm hoping that the chairman gives me time to sort it out because I do believe that myself and Mark and the players we've got in there will sort it out.
"It is a big ask to win the league, but the chairman hasn't asked us to win the league. He's asked us to get into the play-offs.
"If you look at the league, there's not a massive gap between that and fourth place at the moment."
Moore admits that he would gladly swap victory at Celtic Park, and even a first semi-final place in his three years as Morton manager, for a few league wins.
"But winning that game's gave us another chance in the Cup against St Johnstone when hopefully the boys will turn up," he added.
"It is different now. That gets us to the semi-final and that's something we haven't had before."
Interview with Chick Young for Sportsound on BBC Radio Scotland.