Jamal Malinzi elected Tanzania FA president
By Emmanuel Muga
BBC News, Dar es Salaam
Last updated on .From the section Football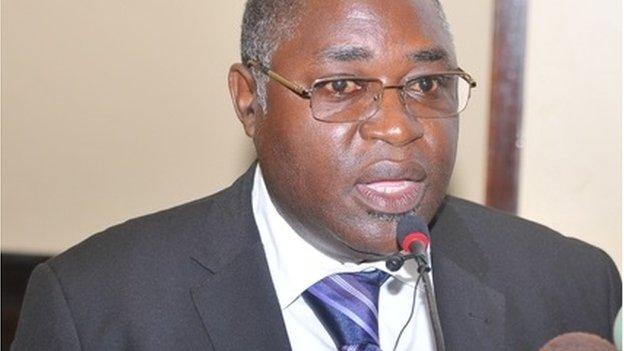 A man whose candidature was salvaged by world football's governing body, Fifa, has been elected new president of Tanzania Football Federation (TFF).
Jamal Malinzi, who was initially disqualified by the TFF and only managed to run after Fifa intervened, beat outgoing vice president Athumani Nyamulani by 73 to 52 votes in polls.
Nyamulani had been nominated to run unopposed until Fifa intervened earlier this year, ordering inclusion of all candidate in the election.
Malinzi will be deputized by another 'outsider' Wallace Karia, who beat outgoing TFF second Vice President Ramadhan Nassib.
The 53-year-old businessman takes over from former international Leodegar Tenga, who did not seek re-election after serving for eight years.
"The protracted campaign is over it is time now to work together to develop football," said Malinzi after winning the election.
"I thank Fifa for intervening, now I am president because they took action to protect my rights and to safeguard interests of Tanzanian football," he added.
He said under his tenure Tanzania will bid to host 2019 CAF U-17 championship, which will be used to kick-start development of youth football.
"I will put emphasis on youth development, face-lifting stadiums and playing grounds as well as improve coaching standards in the country," he added.
Malinzi worked as secretary general of Tanzanian giants Young Africans in the past before leaving active football to concentrate on family business under Cargo Stars group of companies.
He later returned to football affairs, first becoming FA chairman for Kagera region, before making his TFF bid.
Malinzi finds a stable FA and fat sponsorship packages for the league, which is sponsored by mobile phone company, Vodacom, and the national team which enjoys huge sponsorship from Tanzania Breweries respectively.
The sponsorship money has however not translated into better results for the clubs at continental level, and the national team, which is ranked outside Fifa's top 100 and the new president's challenge will be to quench fans' thirst for results.