Former South Africa stars stranded in Botswana
By Mtokozisi Dube
BBC Sport, Gaborone
Last updated on .From the section Football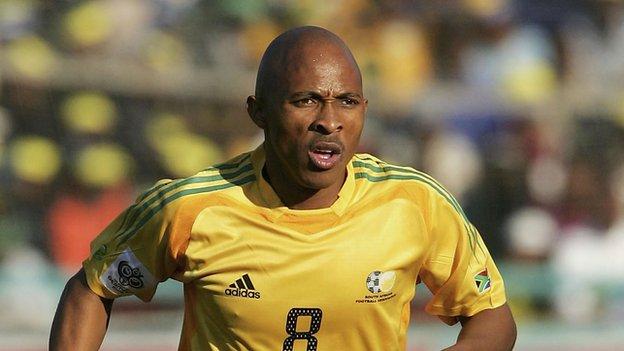 Former South Africa stars Bennedict Vilakazi and Manqoba Ngwenya have revealed they are owed three months' pay by their club Notwane, which has left them stranded in Botswana.
The pair joined the Botswana Premiership club during the off-season but told BBC Sport they have yet to receive their signing-on fees, salaries and allowances.
And on Friday they were thrown out of their hotel without their luggage, which was held, because they have been unable to pay their bills.
Botswana Footballers' Union (BFU) spokesperson, Kgosana Masaseng said they had since accommodated the two at a Gaborone lodge while they wait for the club's owner to return from an international trip.
"We have taken the two South Africans and two Zimbabwean players into a lodge at least until the club owner returns. They have not been paid for three months, but I think the club is better placed to elaborate on such issues," Masaseng told BBC Sport.
The club's owner, Gift Mogapi is said to be away on an business trip.
Vilakazi, who played for South Africa at the 2006 Africa Cup of Nations, described the state of affairs as "painful and sensitive". He said they were making efforts to obtain their reverse International Transfer Certificates.
"We want out, we have had enough. If we had accommodation it was going to be better. Now we don't even have anywhere to sleep as even our luggage is held by the hotel," he said.
Botswana Premier League (BPL) chief executive officer, Bennet Mamelodi confirmed receiving letters from the two players, adding the Players' Status Committee was now handling the issue.
The duo and their team-mates have boycotted training since last week Tuesday.
The players were begged to fulfil last weekend's fixture after the BPL refused to postpone their next two fixtures.
However, Vilakazi and Ngwenya watched the game from the terraces, insisting they would not play until the issue is resolved.
The duo's salaries are estimated to be in the region of US$2,400, making them the highest paid players in the Botswana league.