Pirates stay calm ahead of Champions league final
Last updated on .From the section Football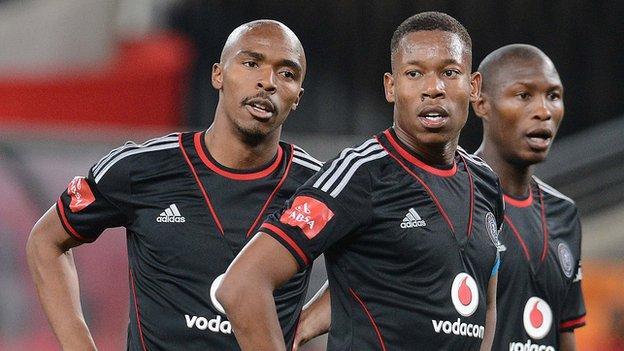 On the eve of their biggest match in almost two decades, South Africa's Orlando Pirates are putting up their feet and relaxing.
Coach Roger de Sa has ordered rest for his key players ahead of Saturday's first leg of the African Champions League final against Egyptians Al Ahly at the Orlando Stadium in Soweto (kick off 1830 GMT).
A week in which one would expect a frenetic air of preparation, the atmosphere in the Pirates' camp is one of surprising serenity.
De Sa admits he took a gamble last weekend by fielding the same line-up for a third successive game in a week but a tepid second half showing in the South African premier league derby against arch rivals Kaizer Chiefs revealed growing exhaustion in their ranks.
So he decided rest is the best preparation.
"I decided I wanted to keep up the momentum and stick to a winning formula although I had thought of resting many of the key players," he said this week as he reflected on his team selections for recent games.
"It was a call I made only late and after pondering both arguments. But it was obvious we were very tired on Saturday and so this week it will be about putting our feet up and relaxing before the Ahly game," he told BBC Sport.
Pirates have had a relentless programme of matches since the group phase of the Champions League started in July. They have played 17 games in the last 14 weeks and travelled to Congo, Egypt (twice) and Tunisia.
Two weeks ago they were in Tunis, where their 1-1 draw with Esperance qualified Pirates for the Champions League final. They flew home on the Sunday, arriving back in Johannesburg via Qatar on Monday afternoon.
Just over 48 hours later, De Sa played the same side against Lamontville Golden Arrows in a South African League Cup quarter-final tie and then on Saturday at Soccer City against Chiefs, which ended in a 1-1 draw in front of some 79 000 spectators.
De Sa says work this week will be on set-pieces and tactics rather than any physical preparation.
"If we aren't ready now, we'll never be," quipped the Mozambican-born coach, who is a former Bafana Bafana goalkeeper.
Pirates seek a second continental title, 18 years since their first success in the old-style Champions Cup in 1995.
It is only the third time a South African club competes in the final of the continent's top club competition despite claims to have the most successful and lucrative league in Africa.
Their 3-0 away win over Al Ahly in the group phase gives Pirates a psychological advantage although the return match at the Orlando Stadium just one month ago was a goalless draw with chances at either end.
Pirates' progress to the final comes despite years of apathy towards pan-African competition from South African clubs, who have seen participation in the Champions League and the African Confederation Cup as a distraction from domestic targets.
It developed into such indifference that clubs like Moroka Swallows turned down the opportunity to participate even after qualifying and others like Ajax Cape Town and Wits played reserve teams in continental club matches so they would be eliminated early on.
But Pirates showed a changed attitude three years ago when owner Irvin Khoza stated he wanted to rule continental football again and despite an embarrassing first round exits in both 2011 and 2012, Pirates have looked ambitious and determined this time round.