Fifa vice-president Jim Boyce issues warning over chanting
Last updated on .From the section Football
Fifa vice-president Jim Boyce has issued a warning to Irish League clubs in the wake of sectarian chanting at a game between Linfield and Cliftonville.
Sections from both sets of supporters were involved and referee Hugh Carvill asked for an announcement to be made, urging those involved to desist.
"Guidelines are being brought in by Fifa and Uefa as the days of fining clubs are a waste of time," said Boyce.
"Sanctions include playing games behind closed doors and deducting points."
Boyce, who has enjoyed a long-time involvement with Cliftonville, described the behaviour of some fans at Tuesday night's County Antrim Shield semi-final at Windsor Park as "pathetic".
"Last night was the first time for quite a long time that I've heard it as bad as it was for a short period, but these days we shouldn't have to listen to it at all.
"Clubs have to take this issue seriously because if it is reported to Fifa or Uefa and the local authorities do not take action, Fifa and Uefa will be forced to intervene.
"Last night the referee felt compelled to take action and I admire him for taking a stand to eradicate this sort of thing.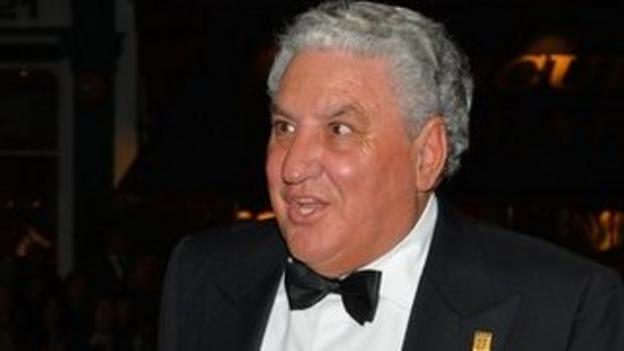 "Options being discussed for the future include the closure of sections of the ground where this behaviour occurs, ordering games to be played behind closed doors and, if it continues, points could be taken off clubs. People who indulge in this behaviour don't care about fines.
"Since stewarding was introduced at Irish League matches things have improved 90%, it's nothing like it used to be in the past, but it still should not have happened.
"Players on the pitch of all religions should not have to listen to these idiots and if they want to indulge in sectarianism, then they should stay away from football grounds."
A statement released by Linfield on Wednesday afternoon said they "unreservedly condemned the distasteful sectarian chanting from a very small minority of those claiming to support both sides".
"This club has worked hard and will continue to work hard to oppose sectarianism and any other forms of intolerance which have no place in our game.
"Towards the end of last night's game a message was relayed from the match officials via the home dug-out to the PA announcer to make an announcement that the game would be abandoned, if the sectarian chanting did not cease.
"As already stated, the sectarian chanting was from a very small minority of supporters of both teams and this should not detract from the excellent behaviour of the vast number of Linfield and Cliftonville supporters who were able to support their team in the proper manner."
A Cliftonville statement said the club "will not tolerate any form of sectarianism and will, in conjunction with the Irish Football Association and other bodies, continue to strive to eradicate it from football".