Cardiff v Swansea: Four players recall their derby adventures
Last updated on .From the section Welsh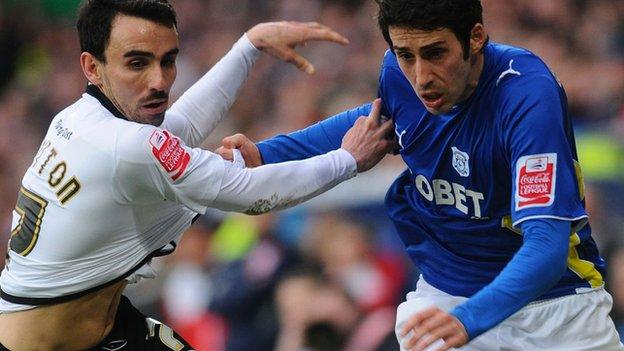 In over a century of derbies, Cardiff City and Swansea City have a record of memorable matches. As they face their first clash in the Premier League on Sunday, BBC Wales Sport asked former players for their personal recollections from the liveliest of encounters.
NATHAN BLAKE, Cardiff City 1990-1993
Nathan Blake gives short shrift to suggestions that Cardiff will play bigger games than the derby matches against Swansea in the Premier League this season.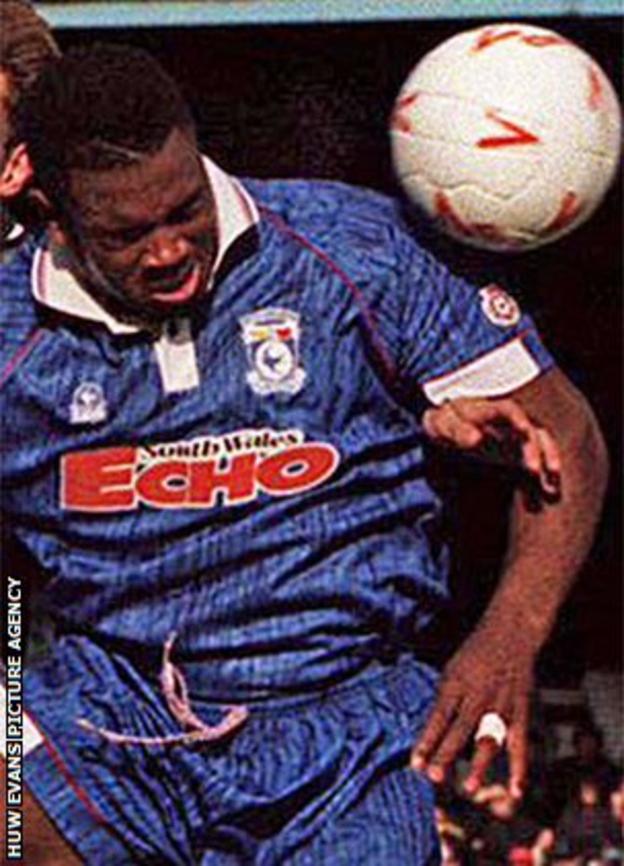 "You are wrong," he says, laughing heartily. "You are 100% wrong."
Former Wales striker Blake played 149 games for Cardiff and scored a goal in a 2-1 FA Cup defeat at Swansea in 1991.
"The rivalry is hard to put into words.
"You'd see fans and think 'that's a 55-60 year-old person - man or woman', and you'd see them jumping up and down and shouting and screaming and sometimes even being abusive to the opposition.
"Until you're in that atmosphere - whether you're a player or a fan - and you're inside that arena playing in that game or involved in that game it's really difficult to to understand."
Blake was 19-years-old when he first took part in the south Wales derby, and after his apprenticeship at Chelsea, was shocked by the fierce nature of the rivalry between the fans.
"They were very intense, both home and away," he added.
"I think I preferred the away fixture to be honest with you. I always loved going down to the Vetch - but it's a rough old derby."
ROGER FREESTONE, Swansea City 1991-04
Roger Freestone developed an understanding with Cardiff City fans during his time at Swansea - after all, he did play against the Bluebirds on a record 19 occasions.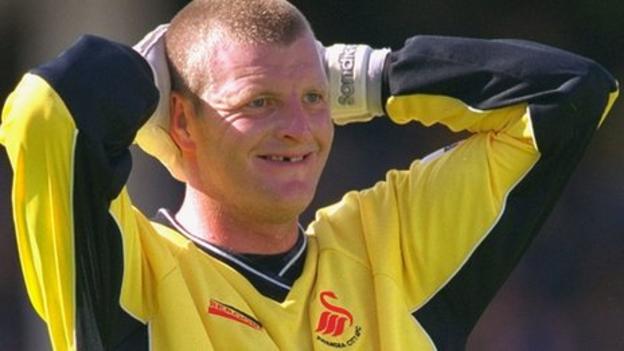 The Bluebirds faithful used to call the stalwart goalkeeper Roger 23-stone whenever they were within barracking distance.
"I used to get abuse about my belly so I used to lift my shirt and show them," said Freestone, chuckling at the recollection.
"So a lot of the supporters would give me a cheer - and then it was back to the abuse! You just used to expect it and to be honest I enjoyed it."
Freestone recalled he was not even a member of staff at Swansea when he had his first taste of the derby.
"I went on loan in 1989 and the last game of my loan period was against Cardiff at home on Boxing Day and we unfortunately we lost 1-0," he said.
"We dominated the game but Leigh Barnard scored, I think it was in the fourth minute, and they held on for the victory.
"It was a great game to play in, both sets of fans there were rowdy. It was a brilliant atmosphere, but a shame about the result."
STEPHEN McPHAIL, Cardiff City 2006-13
No one understands the importance of keeping a cool head in a derby better than Stephen McPhail, having twice failed to do so.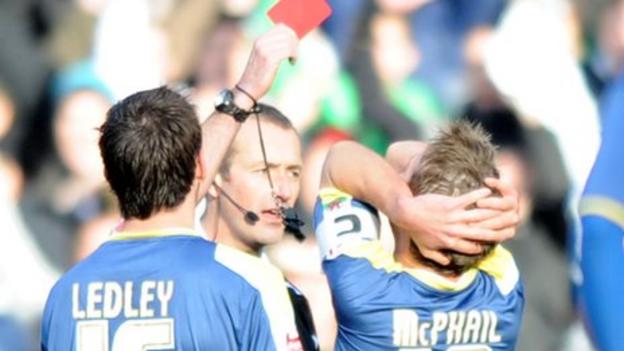 The Irish midfielder, now with Sheffield Wednesday, was sent off in two derby matches in the 2008 season - both at the Liberty Stadium - and still can't offer what he considers to be an acceptable explanation for either incident.
"I messed up a couple of times," was his honest assessment.
"In my first derby away at Swansea I made a late rash tackle in the second half which was daft because I'd forgotten I'd already been booked to be honest, and I totally misjudged the tackle.
"In the second game the ball fell to me after I'd made a good challenge but the ref gave a free-kick and I just kicked it away. Still to this day I couldn't tell you why I did it.
"And that's the thing it's about keeping your heads - especially when you're the away team. You just have to try and just play the game, that's the most important thing.
"But it's a great game to play in, I was lucky enough to play in quite a few of them and the atmosphere is amazing and to see them doing that on the bigger stage in the Premier League means I'm very envious of the lads."
MARK GOWER Swansea City 2008-13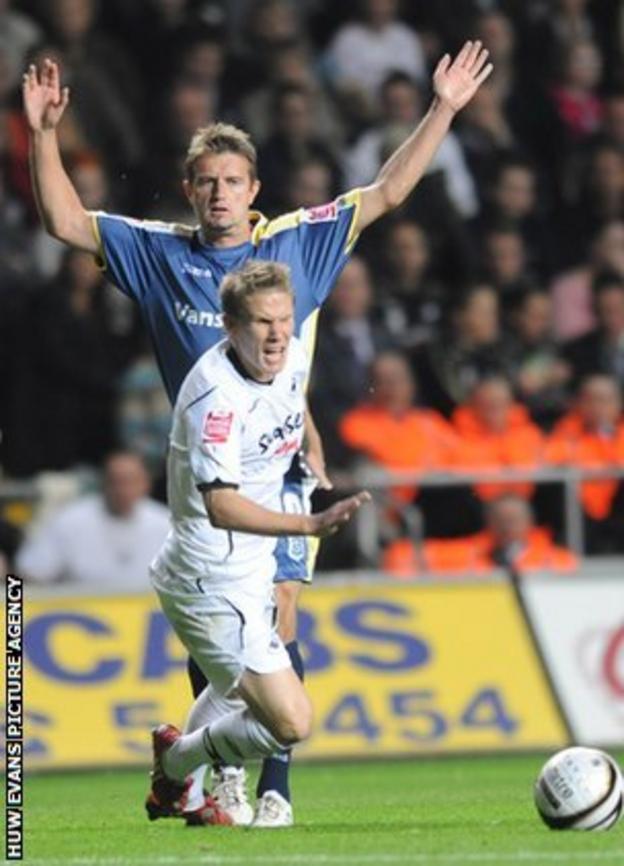 Mark Gower's introduction to the south Wales derby came on 23 September, 2008 when the teams met for the first time in nine years and the Swans won 1-0 in a League Cup tie at the Liberty Stadium.
It's an experience that left a mark on the midfielder, who moved to Charlton Athletic in the summer.
"I'll never forget it," he said.
"The atmosphere was probably the best I've ever played in - it was was relentless from the warm-up to the final whistle. It was a breath-taking atmosphere to play in and something that I'll miss now that I'm not there.
"It was a terrific feeling to win and we'd knocked them out of the cup which was an added bonus.
"I remember for weeks and weeks afterwards people in the streets and wherever you went just coming up to you and saying 'thank you very much for beating Cardiff' - it just means so much to them.
"I've won, drawn and lost in derbies so I've experienced all the emotions and I don't recommend losing this one because it's not a good feeling and the impact of the result lasts a bit longer because of the opposition."