Leicester City: Nigel Pearson avoids contract talk
Last updated on .From the section Football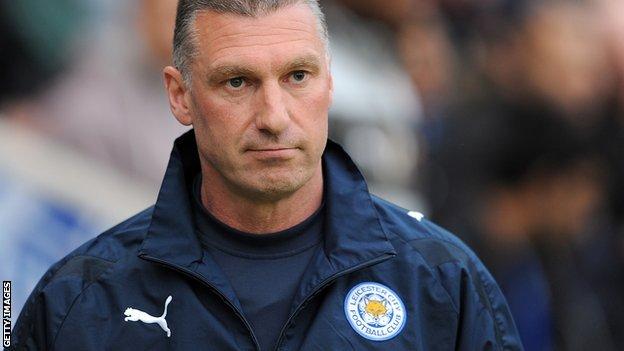 Leicester City manager Nigel Pearson fears contract negotiations could disrupt the Foxes' form.
Pearson and 11 of his players, including goalkeeper Kasper Schmeichel and striker David Nugent, are in the final year of their current deals.
The Foxes boss would rather focus on staying in the Championship's top two and continuing their League Cup run.
"It's counterproductive to be discussing stuff like that," Pearson told BBC Radio Leicester.
"It certainly doesn't affect how I work and is not something I really want to discuss.
"The important thing is that we stay focused on the job at hand. Once you start getting side-tracked I think it is a dangerous approach to take."
Lloyd Dyer, who scored the late winner against Premier League side Fulham in the fourth round of the League Cup on Tuesday, is also among those out of contract next summer.
Pearson feels patience and building on the run of six wins in seven games will be rewarded in time.
"The players have to embrace that attitude themselves, they have to go out there and continue to perform well," Pearson said.
"If they do that then hopefully everything else takes care of itself.
"Let's try to enjoy the situation, enjoy the challenge for what it is."