David Beckham's Miami MLS bid will help revival of Florida soccer
By Richard Fleming
Colorado Rapids director of broadcasting
Last updated on .From the section Football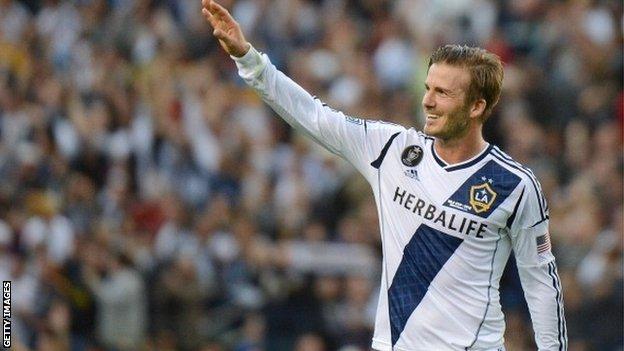 The news that David Beckham is to resume his love affair with Major League Soccer (MLS) will surprise few in North America.
It has long been known that the 38-year-old would take up the option of becoming a team owner, after his playing days ended.
Indeed, this formed part of his initial contract when he joined LA Galaxy in 2007, at the end of which he had - according to Forbes - earned $255m (£159m).
Brought in to aid the growth of MLS, by the time he stepped away from the Galaxy in 2012, the league had added seven new teams.
Beckham's link with Miami was on the lips of MLS commissioner Don Garber back in July. It was then reported in August that Mr and Mrs B were in the market to purchase the Versace mansion in the South Beach area of Miami, originally valued at $125m (£78m).
The rumour mill has been turning ever since, but this most recent announcement appears to confirm what many had known for months.
MLS is not like any other football league. The game itself is the same, of course, but much else will be quite alien to those familiar with football in almost every other nation.
If you are au fait with other North American sports, such as the NFL or NBA - American football and basketball respectively - then you will already have a head start in understanding MLS, and the reason Beckham's bid for a club would be anything but straightforward.
Firstly, Beckham was unlikely to be granted ownership of a current club - MLS preferring to use his star status to tap into a new market - and so, with no promotion or relegation, the former England international would have to wait for the league to welcome an 'expansion' team.
MLS currently boasts 19 teams, including three in Canada, five on the west coast of the United States, heavy emphasis in the north east (New York, New England, Washington DC, Philadelphia and Columbus), as well as two in Texas and a general spread across the central belt (Chicago, Kansas City, Colorado and Salt Lake).
It has its heart set on reaching 24 teams by 2020, although joining US football's top table is by invitation only and is not achieved by success on the field, rather by a whole host of criteria.
A key element is the health of the local area, and its hunger for the beautiful game. Is there political, media and fan support? Does the team have its own stadium? Can the local market sustain a football team? Do the owners have the passion, management savvy and financial clout to be deserving of an MLS team?
You will notice that having a good team is not top of the priorities.
The reason is that MLS remains in its infancy and abides by a strict business model. That means being operated as a single entity, such that each of the 19 teams is 'owned' by the league but run by investors who are - in a sense - shareholders. They make decisions about the league as a whole and not just their own club.
The NFL's new TV deal kicks in after this season, and runs through to the end of 2022. It's worth $3bn (£1.9bn) a year. Compare that with the current deal that MLS has with NBC, reportedly worth just $10m (£6.2m) a year.
Add to the equation the billions swirling around college sport - in 2010, the National Collegiate Athletic Association (NCAA) signed a 14-year TV deal to cover men's basketball worth $10.8bn (£6.7bn) - and it is clear that in a saturated sports market, football plays fourth or fifth fiddle.
It is vital, therefore, that new additions, carefully selected, add to the growth and are not a drain on the limited resources.
True, MLS continues to grow - but it has not always been the case, and Miami was once a dirty word in US football circles.
The south Florida city has previously dipped its toe into MLS waters, with Miami Fusion joining in 1998, two years after the league was launched. A combination of lack of local interest (they were averaging crowds of 11,000 at the end), limited corporate support and a new league unable to financially prop up a struggling team, meant the Fusion folded at the end of the 2001 season.
At the same time, and for similar reasons, Florida lost its other franchise, Tampa Bay Mutiny. MLS, just six years in, was haemorrhaging and would begin the 2002 season with only eight teams.
But to go from that low in 2002 to 19 teams at the start of 2012, with most now housed in their own stadiums - as opposed to sharing NFL grounds or baseball arenas - illustrates that the popularity of MLS has grown significantly in the US.
As well as national coverage, each club has its own local TV deals. And the mere fact there are cities now queuing up to join (Atlanta, San Antonio, Phoenix, Minnesota, San Diego, Las Vegas, Cleveland, Detroit, Pittsburgh and St Louis have all expressed an interest), suggests the league has recovered to such an extent that it is ready to return to Florida.
Miami, if confirmed, would be the third of the planned five expansion teams, with the Manchester City-backed New York City FC set to join for the 2015 season.
And the Sunshine State even looks like having two teams back in MLS, with Orlando City - formerly the Austin Aztex franchise and coached by former Everton and Stoke midfielder Adrian Heath - expected to have their membership rubber-stamped some time soon.
Much as the game in England had to after the 1980s, when all but the hardcore were distancing themselves from the sport, MLS has worked hard to alter perceptions and boost the popularity of the game.
Corporate America is on board, TV coverage is stronger and the fan base is expanding: Orlando City's game against Charlotte Eagles in the USL Pro Championship - effectively the third tier of US soccer - in September was watched by more than 20,000 fans.
Having Beckham on board, in a region of the USA which has a chequered past, will undoubtedly allow Florida's football to flourish.
Reports suggest Beckham and his backers will be awarded the Miami franchise for a cut-price $25m (£15.6m).
Compare this with the $70m (£43.7m) being asked of Orlando and the $100m (£62.4m) that NYCFC has handed over for expansion rights, and you quickly realise that - arguably - MLS needs Becks more than he needs them.