Rangers: parent company seeks new chief executive
Last updated on .From the section Football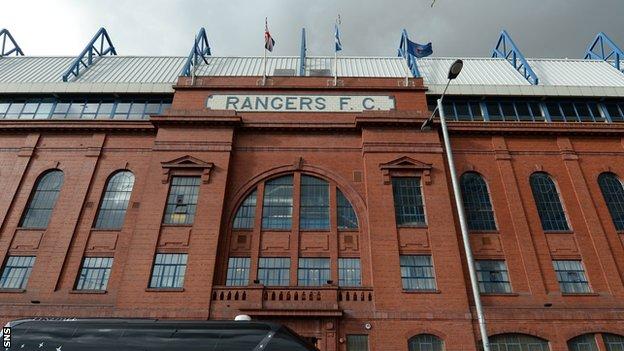 The Rangers International Football Club PLC has advertised for a new chief executive to replace Craig Mather.
The job listing, posted in Thursday's Financial Times, seeks a candidate of "exceptional quality and experience who is comfortable in a high profile environment".
The company is aiming to begin the interview process on 11 November.
Mather stepped down two weeks ago following a period of boardroom unrest at Ibrox.
The advert for the chief executive's position advises that the successful applicant should be an "exceptional business leader" with a "proven track record of success within sport".
Further details advertise that the salary is negotiable, with benefits.
The company's annual report, posted on 1 October, reported an operating loss of £14m in the 13 months to June and the board came under heavy criticism for excessive payments to directors.
At the Court of Session in Edinburgh on 14 October, a group of shareholders seeking changes at board level won a court case forcing the postponement of the company's 24 October annual meeting.
The current board of The Rangers International Football Club PLC has only two board members at present, the bus tycoon James Easdale and the company's financial director Brian Stockbridge.
Mather replaced Charles Green as chief executive in April when the Yorkshire businessman resigned over comments made in a newspaper interview.
The Rangers International Football Club PLC is listed on the Alternative Investment Market of the London Stock Exchange and is the owner and operator of The Rangers Football Club Ltd.