Peter Taylor: Two more games as Gillingham interim manager
Last updated on .From the section Football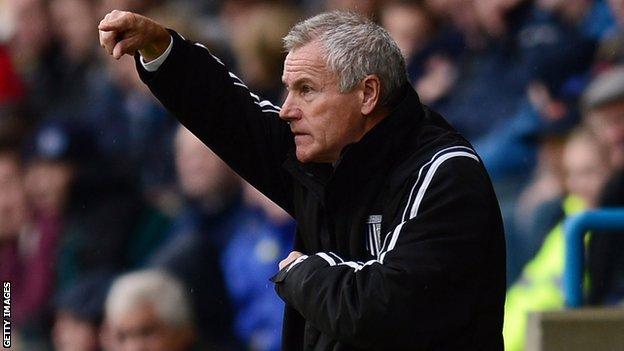 Peter Taylor says he has two matches left as Gillingham interim manager after talks with chairman Paul Scally.
"We had a good chat and I said I think the interim thing can only be a certain time," he told BBC Radio Kent.
"I think it is more important to appoint a permanent manger so he can do his job properly."
He added: "It makes it much healthier for everybody that it gets sorted out soon."
Taylor took charge at Priestfield Stadium on 14 October following the sacking of Martin Allen the day before.
Scally said he "had to make the decision in the best interests of the club" but then said the process to appoint a new manager would take "a good four to five weeks".
Taylor, who led the Gills to promotion to the second tier in 1999-2000, has won one and lost two matches since returning to Kent.
"There is no doubt about it, when you are dealing with players and things, you are better off being a permanent manager than interim," Taylor said.
"You are in more control.
"We both agreed on that so Paul will probably look at certain things and make a final decision before the Sheffield United game.
"I have no problem with that. I came in here on that agreement and it is absolutely fine."
Last week Gillingham captain Adam Barrett backed Taylor to get the job and the 60-year old will now take charge of the League One game at home to Carlisle on Saturday and the FA Cup tie against Brackley Town a week later.
However Taylor does not believe the results in those matches will be the be-all and end-all of whether he is appointed permanently.
"I don't think that is the case," he said.
"I believe the players are responding very well and there are certain things in our performances that have been first class.
"There have also been some negative sides as well. We are getting there.
"If we got a result against Carlisle it would help the situation but is that the reason you get the job or not get the job? I don't think so."