Liverpool are 'heading in the right direction' says Tom Werner
Last updated on .From the section Liverpool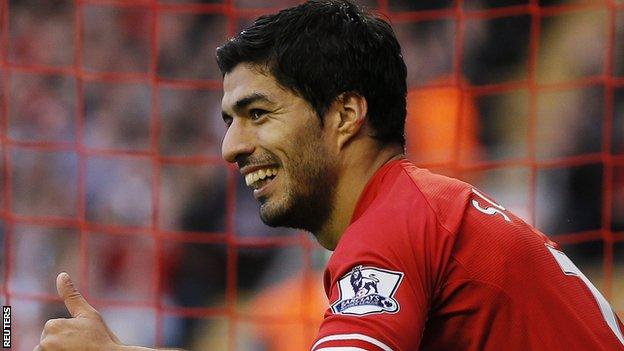 Liverpool chairman Tom Werner believes the club are "heading in the right direction" in their pursuit of Champions League football.
"We know how much it means to our fans to get to the top of the Premier League and get back in the Champions League," said Werner.
"I just want to keep going in the right direction."
After seeing his baseball team, Boston Red Sox, win the World Series with victory over St Louis Cardinals on Thursday, Werner talked about the importance of success at Anfield after a disappointing seventh-place finish last campaign.
This season the Reds have lost just once in the league and are two points behind leaders Arsenal.
"We entered into this crazy world of football because we wanted to bring more trophies into the trophy room at Anfield," Werner told the Sport Today programme on BBC World News.
"Our performance on the pitch has improved this year. Things are all looking good.
"It is a terrific league. There are so many teams bunched up at the top. It is going to be a dogfight."
Werner, whose Fenway Sports Group, bought Liverpool in October 2010 from previous owners George Gillett and Tom Hicks, said he hoped striker Luis Suarez would remain at Liverpool, describing him as "integral to our success."
The Uruguay striker scored his first hat-trick at Anfield in Saturday's 4-1 win over West Brom .
Liverpool turned down two bids from Arsenal this summer for Suarez, even though the 26-year-old pleaded with his manager and the club's owners to be allowed to join a team in the Champions League.
And ahead of Liverpool's trip to league leaders Arsenal on Saturday, manager Brendan Rodgers has told the Gunners that signing Luis Suarez "was never going to happen".
Arsenal made a £40 million plus one pound offer for the Uruguay international in the belief it would trigger a clause in his contract.
"I understand why Arsenal would want to buy a player of Luis's quality because he is one of the leading strikers in the world but it was something that was never going to happen," said Rodgers.
"For us, we certainly weren't going to sell to a rival and that was something which was very strong from the off."