Arouna Kone: Ivorian's knee injury worries Everton
Last updated on .From the section Football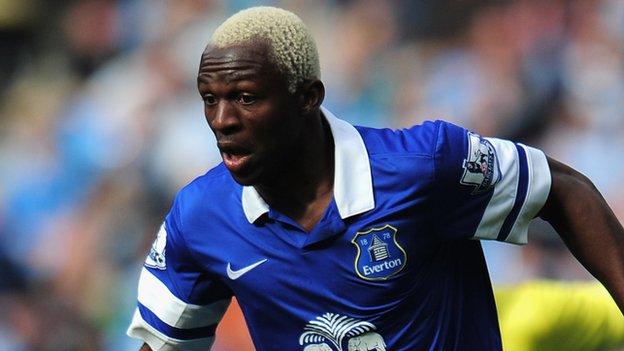 Everton manager Roberto Martinez says he is concerned about a knee injury to Ivory Coast striker Arouna Kone.
The 29-year-old suffered the problem in the 2-1 win over Hull on 19 October and Martinez admitted he does not yet know how long the forward will be out.
"We had a little bit of a setback and we are a bit worried," said Martinez. "Little niggles never stop him from playing, I've never seen him like this.
"We need to make sure we get to the root of the problem."
Kone, who joined Everton from Wigan for £6m in the summer, missed the Toffees' match against Aston Villa last weekend and will not play in Sunday's game against Tottenham.
Ivory Coast will hope the striker recovers in time for their World Cup play-off second leg away to Senegal on 16 November - although the Elephants hold a 3-1 lead from the first match last month.
Martinez added that Kone will have to undergo further tests before the full extent of the problem is known.
"We are going to assess him again and see because it is a little bit more serious than expected," Martinez said.
"He has over-extended the knee. It is something we need to find out about over the next couple of days.
"We have to do a couple more tests to see how the knee is reacting."