Terry Butcher & Darren Jackson cited by Scottish FA
Last updated on .From the section Football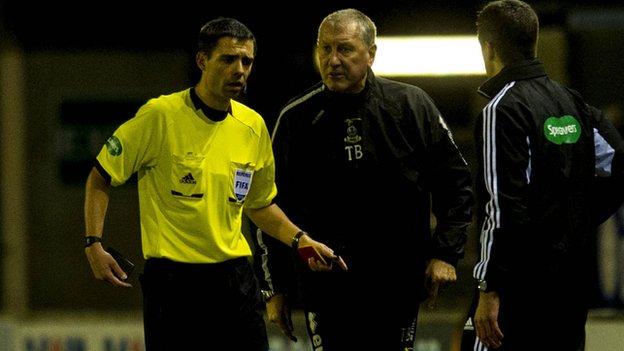 Inverness CT manager Terry Butcher and Dundee United coach Darren Jackson have been cited for "misconduct" during Tuesday's Scottish League Cup tie.
Both men are alleged to have breached disciplinary rule 203 "by failing to behave in a responsible manner".
Butcher and Jackson were sent to the stand after a melee which also involved several players near the touchline.
United's Nadir Ciftci was sent off for his part in the brawl and also faces disciplinary charges.
and the 21-year-old will also have to answer a count of violent conduct for the claim he grabbed an Inverness player's face.
United, who after extra-time, against Ciftci's red card.
Jackson and Butcher have until 8 November to respond to their notices of complaint and a principal hearing date for both men has been set for 21 November.
The Scottish Football Association's disciplinary rule 203 outlines a breach as "misconduct at a match by failing to behave in a responsible manner as an occupant of the technical area by acting in an aggressive manner towards players of the opposing team".