Rangers: Dave King cannot broker Ibrox compromise
Last updated on .From the section Rangers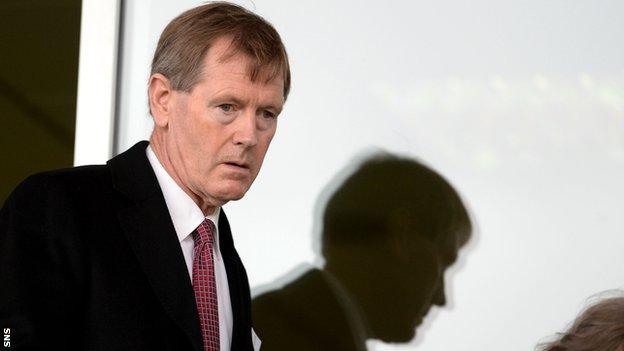 Former director Dave King admits he has been unable to prevent the likelihood of an acrimonious annual general meeting at Rangers.
King has been talking with both factions in the power struggle for boardroom control at Ibrox.
But he revealed no "consensus agreement" had been reached because "certain influential shareholders are unwilling to compromise".
However, he did say all discussions had been held in a "constructive manner".
King, who invested £20m when Sir David Murray owned Rangers and remained on the board during the ill-fated reign of Craig Whyte, is exploring a return to Ibrox and again spoke of his intention to become "actively involved in the club's affairs".
The AGM must be held before 31 December, following last month's court action to postpone the gathering of shareholders proposed by the club board.
It means that bids by former director Paul Murray and three others to join the board will be on the agenda.
King held talks with Murray and his backers as well as Sandy Easdale - who controls about 25% of the proxy votes at Rangers.
"It seems inevitable, unless there is a change of heart, that an acrimonious AGM lies ahead," said King in a statement.
"In my view, the AGM will not be decisive irrespective of its outcome. A continued polarisation is what I was desperately trying to avoid.
"For the avoidance of doubt and to avoid speculation, I advise that Paul Murray and Sandy Easdale both displayed a constructive and flexible attitude during my discussions with them."
The South Africa-based businessman went on to reiterate his belief that the "settlement of my legal disputes in South Africa was concluded on a basis that has no effect whatsoever on my ability to serve as a director of companies".
King, who has convictions for breaching tax laws, has not yet approached the Scottish FA but would need to meet the requirements for all club office bearers spelled out in the governing body's articles of association.
Referring to "speculative and misinformed press coverage around my fit and proper status", King added: "I am fully alert to key questions that are likely to be put to me and I am confident that my responses will be persuasive".