Guernsey FC boss Tony Vance proud of defensive turnaround
Last updated on .From the section Football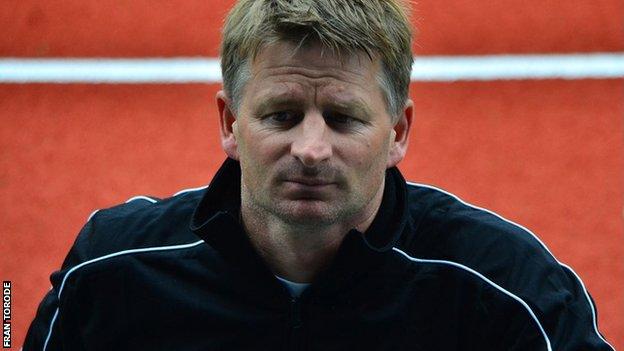 Guernsey FC boss Tony Vance has said he has been proud of the way his players have adapted to the demands of a higher standard of football this season.
A 4-0 home defeat by Ramsgate early in the season prompted a change in tack.
"We've changed our style and we're very respectful of the fact that we can't play so open," he told BBC Guernsey.
"Previously we were a very offensive team, and we still are but we know that when we don't have the ball we have to shut up shop a lot better."
The Green Lions now have the best defensive record in the league, having conceded just 13 goals all season.
"I'm very proud of the fact that we've done that and adapted and still managed to be an offensive team as well at times," he added. "The fact we've got the second-best defensive record in the league is quite a turnaround for a team that's supposed to be gung-ho."
Guernsey face Faversham Town on Saturday, a team three places below them in the league table.
"Anyone can beat anyone in this league - we played a team who were three or four places off the bottom and they played us off the pitch," Vance said.
"We were amazed to get a draw so we know you have to respect everybody. They've got good pedigree from last year and it should be a good game.
"You don't know what's round the corner, that's the challenge of going away.
"We are confident and things are going well, but every team brings different challenges and if we're not up to the task then teams will take those opportunities and take points off you."