Dundee Utd: Stephen Thompson takes on majority sharholding

Last updated on .From the section Football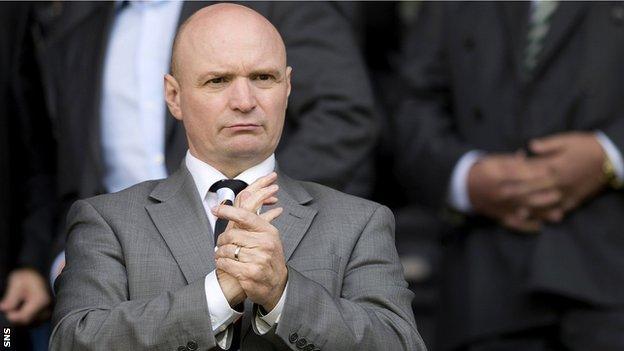 Dundee United chairman Stephen Thompson is to take on the controlling interest in the Tannadice club.
Current owner Cath Thompson will stand down from the board and transfer her majority shareholding to son Stephen and his sister, Justine.
Cath Thompson currently owns 88% of the shares and she will be replaced on the board by daughter Justine, who becomes the second largest shareholder.
Stephen Thompson will now control over 50% of club shares.
The current chairman, who succeeded his late father, Eddie, in 2008, will continue to run the club.
While Cath Thompson will no longer be a board member, a link with Dundee United will be maintained.
Mrs Thompson is to become honorary president of the club her late husband Eddie won control of after a long battle with former United chairman Jim McLean in 2002.
The changes are expected to be confirmed at a board meeting on Monday with sources close to the family saying the move is good for continuity.
And Stephen Thompson and sister Justine are likely to invest a six-figure sum in the club in the coming weeks.