Martin O'Neill & Roy Keane: A Republic of Ireland dream ticket?

By Pat Murphy
BBC Radio 5 live
Last updated on .From the section Football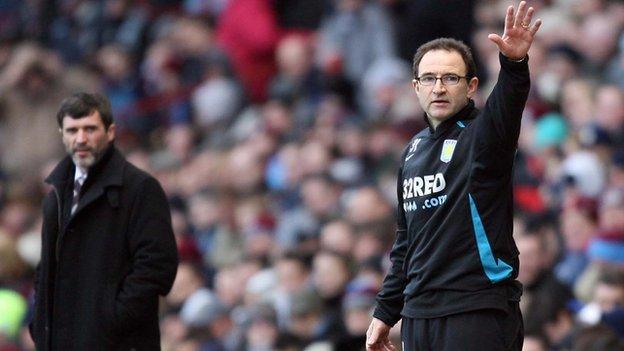 If all the ducks are in order - and that should be the case in the next few days - the Martin O'Neill-Roy Keane Republic of Ireland dream ticket could prove fascinating to observe.
I think it wouldn't be the nightmare many sceptics forecast.
O'Neill, 61, is expected to be in place as manager to plan ahead of the friendly against Latvia on 15 November.
His undoubted man-management skills also extend to backroom staff over a few decades and he knows how to get the best out of an unfulfilled managerial talent, 19 years his junior.
He has massive respect for Keane's playing career and the drive that still sees him out watching games live when he could be sat at home, watching the same match on TV.
O'Neill knows that Keane has re-assessed the methods that alienated so many players during his fledging career at Sunderland and Ipswich. At the age of 42, Keane now has to row back to more conventional shores if his management ambitions are ever to be satisfied.
They may seem an unlikely pairing but working together for ITV Sport has forged a deep mutual respect, with shared values about how the game should be played - learned in each case at the feet of the master, Brian Clough.
O'Neill recalls how many times Clough took a chance at Nottingham Forest on a gifted maverick with a troubled history and he'll have no problem tapping into the qualities he admires in Keane.
It was O'Neill's idea to call Keane and he was gratified at the enthusiastic response. Both intelligent men and voracious readers who march to a different drumbeat to others, the ying and yang they offer to Ireland's players should strike a chord, with qualification for the 2016 Euros the aim.
Echoes of Keane's infamous rant at then manager Mick McCarthy just before the 2002 World Cup still resonate in the bowels of the Football Association of Ireland and among many supporters but O'Neill has pushed for this one and will get his own way.
He hasn't forgotten one of Clough's managerial dictums - 'Always push for what you want in the first six weeks because after that the chairman might go off you'.
And he knows he can carry the day over Keane with the FAI. It'll be his head on the platter if he fails, so why not follow his experienced instinct and go for Keane? They could be good for each other.
Keane's legendary status with the current Irish players as a footballer will be more relevant to them than the McCarthy spat while O'Neill's popularity in the Republic of Ireland was sealed over a decade with his exploits managing Celtic.
He was always going to be an international manager and at 61, doesn't feel club management is now beyond him. He says he's as hungry as ever and wants to get back into the game, still smarting from his Sunderland sacking seven months ago.
Both men have things to prove. Opposites attract. For O'Neill, it's a risk worth taking to bring Keane on board. Despite the doubts I think this one won't need the fastened seatbelts for a bumpy ride.
And their news conferences should be entertaining.