Eloundou's long journey from Cameroon to the USA
By Richard Fleming
Denver, Colorado
Last updated on .From the section Football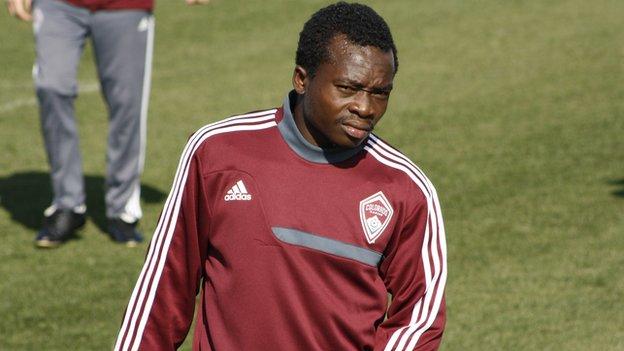 When Charles Eloundou took his last few steps from the Colorado Rapids stadium to their training fields last week, it was the end of what had been a long and drawn-out journey from Cameroon.
His surprise arrival in Denver came just days after Coton Sport had lost in the semi-finals of the African Champions League to Al Ahly.
Unfortunately he arrives just as the Rapids' season comes to an end too following their loss on Wednesday to Seattle Sounders in the first round of the MLS play-offs.
Eloundou was registered with Cameroonian side AS Fortuna but has been on loan at Unisport Bafang and more recently Coton Sport.
"I was waiting on my agent to work on the paperwork and everything between the club here and the club where I was playing in Cameroon," Eloundou said.
"That's why it took me long to get here."
The teenager originally signed a one-year loan deal with Major League Soccer (MLS) at the tail-end of 2012 however visa issues meant he was unable to take his place in the MLS SuperDraft.
Having missed out on the MLS process that allows sides to choose new players he was then made available to a handful of clubs via a lottery process.
It was the Colorado Rapids who triumphed in that lottery on 25 January, seeing off Real Salt Lake and DC United but Eloundou only arrived in Denver on 23 October.
Even the involvement of Fifa by MLS did not speed up the release of Eloundou as Coton Sport insisted they would step aside once their season had ended, and not before.
At one point in February Eloundou believed he would be on his way to join his new teammates in the USA once he had represented the Indomitable Lions in an international friendly against Tanzania.
"I was supposed to arrive shortly after that game but the paperwork and other problems couldn't get resolved, so I couldn't come here," he explained.
The youngster is aware that heading to MLS could hamper his hopes of adding to his international appearances in the short term, but insists this move is part of his footballing education.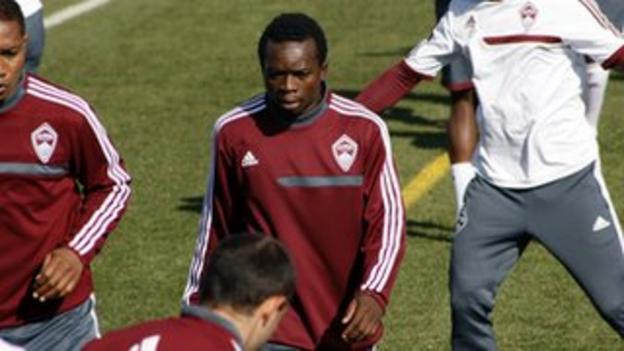 "They (the national team) might be upset, but everybody has to look out for himself," the youngster insisted.
"I'm looking out for my future - I want to get better, I want to progress, I want to learn other leagues than just Cameroon."
Eloundou is now expected to remain in Colorado for the MLS close season with the squad training through until 15 November and then return for pre-season on 20 January.
The Rapids technical director, Paul Bravo, said: "We're very excited to get him here to Denver. For us, it's about getting him acclimated as quickly as possible.
"He's come from West Africa, and probably never seen the weather that he's about to experience here.
"Things that we saw on film are the things that we're seeing in training.
"He's still learning the game but he's a kid with a lot of potential, a lot of pace, skill and has the ability to score goals, which excites us for 2014."
Coping with playing at altitude is also a new experience for the Cameroonian, with the Colorado club situated a mile above sea level.
"The altitude is still bothering me a little bit, but with time I'm going to get used to it. The players are a little physical, but I'll get used to that as well," he said.