Arsenal: Premier League's top side answer their critics in style

By Phil McNulty
Chief football writer
Last updated on .From the section Football893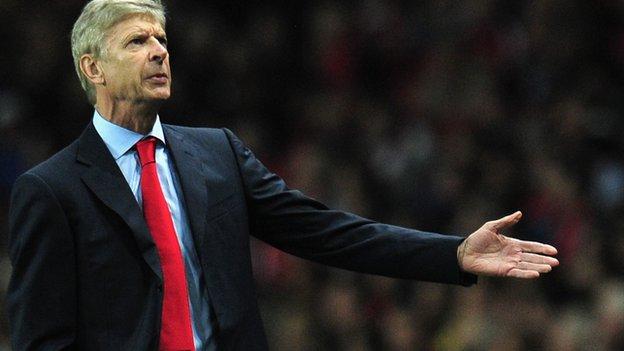 Arsene Wenger will face the same questions until the day he can hold up a trophy in front of his inquisitors and remove the 2005 FA Cup triumph as the last entry in his and Arsenal's list of honours.
Wenger knows there are still doubts about his team's resilience and staying power - but he can deliver the answers with increasing confidence after a 2-0 win against Liverpool at Emirates Stadium on Saturday that left Arsenal five points clear at the top of the Premier League.
After a victory that not only dented Liverpool's impressive start to the season, but also eased any worries after respective home defeats in the Champions League and Capital One Cup by Borussia Dortmund and Chelsea, what were the key points Wenger had to make?
"It was vital to win because had we not won people would say Arsenal cannot win the big games at home."
Wenger knows what Arsenal's detractors say about his players - and he has always been a passionate advocate of not only his team's natural gifts, but also their inner strength and belief, even when the evidence suggests the contrary.
And his statement after this fine win, when many were suggesting Liverpool were in the sort of form to provide a tipping point after those losses to Dortmund and Chelsea, suggests he knew what the reaction would be had Arsenal not taken the three points.
Knives would not have been out but there would have been knowing glances, suggestions that the excellent form after that opening day defeat to Aston Villa was merely a false dawn before the fade.
Instead, led by inspirational captain Mikel Arteta, Arsenal delivered a display that supported Wenger's insistence that they would bounce back after the Chelsea loss - while perhaps putting Liverpool's own ambitions this season into some perspective.
Arsenal were never going to shackle a striker of Luis Suarez's ability completely, but Wenger was right to suggest his defence did a fine job on the Uruguayan and his previously prolific partner Daniel Sturridge.
Per Mertesacker and Laurent Koscielny did everything that was asked of them. Another test awaits next weekend when they face Manchester United's Wayne Rooney and Robin van Persie at Old Trafford but they can draw belief from this.
In midfield there was much creation to admire from Mesut Ozil but the goals came from Santi Cazorla and Aaron Ramsey, showing that an end product can come from elsewhere even when Olivier Giroud, whose touch has been so sure this season, does not hit the target.
"Five points clear is positive and nice but it is very early in the season."
It may be something of a distant memory but Wenger will well remember what it takes to win a Premier League - and how not too many conclusions can be drawn early in the season.
There can no question, however, that Arsenal's mood - and that of their supporters - will have been lifted greatly by events on Saturday.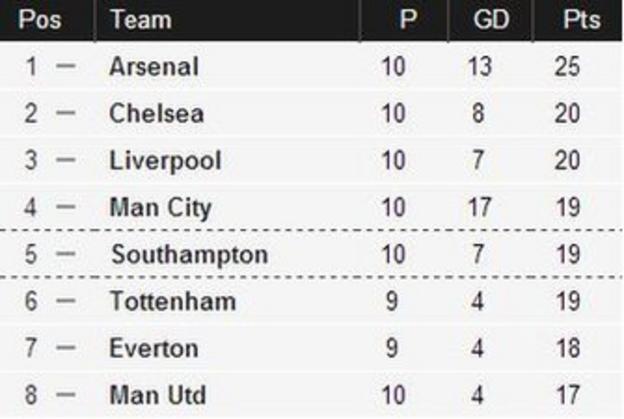 Chelsea started the day hoping to put pressure on Arsenal but slipped surprisingly at Newcastle United in the early kick-off. The Gunners followed that defeat with a powerful statement of their own.
Wenger will know more after the trip to Old Trafford next Sunday but they will go there in a rare position of strength against a Manchester United side still in the process of the post-Sir Alex Ferguson era and getting to know his successor David Moyes.
There have been some grim moments for Wenger at the hands of United in recent years but he may just sense this could be the time to make a psychological point if Arsenal can keep their belief.
So there are more questions.
Can Arsenal win the Premier League? Of course they can.
Will Arsenal win the Premier League? Perhaps not but five points clear as the season edges into November is a position worth being in.
And this has been a strange season so far. Chelsea looked to be gathering momentum then lost on Tyneside. Manchester City have been fragile away from home. Manchester United are not yet at their best.
Arsenal have been the best team in the Premier League so far this season and in their two sternest tests, at home to Spurs and Liverpool, they have collected six points without conceding a goal.
"Is Aaron Ramsey the new Cesc Fabregas? No. They're completely different types of players but Aaron is playing very well."
The question was put to Wenger after the comparison was made following Ramsey's performance in the win against Liverpool, decorated by another magnificent goal, sent high past goalkeeper Simon Mignolet on the hour to put Arsenal on their way to three points.
There is no need to compare the Wales midfield man with anyone this season. He is very much his own man, maturing fully after carefully piecing his career together and fulfilling his promise after the broken leg sustained against Stoke City in February 2010.
It was perfectly understandable that such a trauma would halt Ramsey's progress, albeit temporarily, but Wenger is now in possession of the player he felt he would eventually get when he signed him as a 17-year-old for £5m from Cardiff City in June 2008.
This was his 10th goal of the season, another testimony to his confidence and technique, qualities that have made him an integral part of Arsenal's move to the top of the table. He has eclipsed Jack Wilshere this season and sits comfortably alongside more experienced players such as Ozil, Cazorla, Arteta and Tomas Rosicky.
Ramsey has worked tirelessly to reach these levels - and looks like a player determined to make the most of this golden run.
"People have been sceptical about us so far this season but this will increase our confidence and get the fans right behind us."
Arsenal's fans are a very tough audience. Frustration has grown throughout the barren years and the loss to Aston Villa on the first day of the season looked like it could be the catalyst for revolt.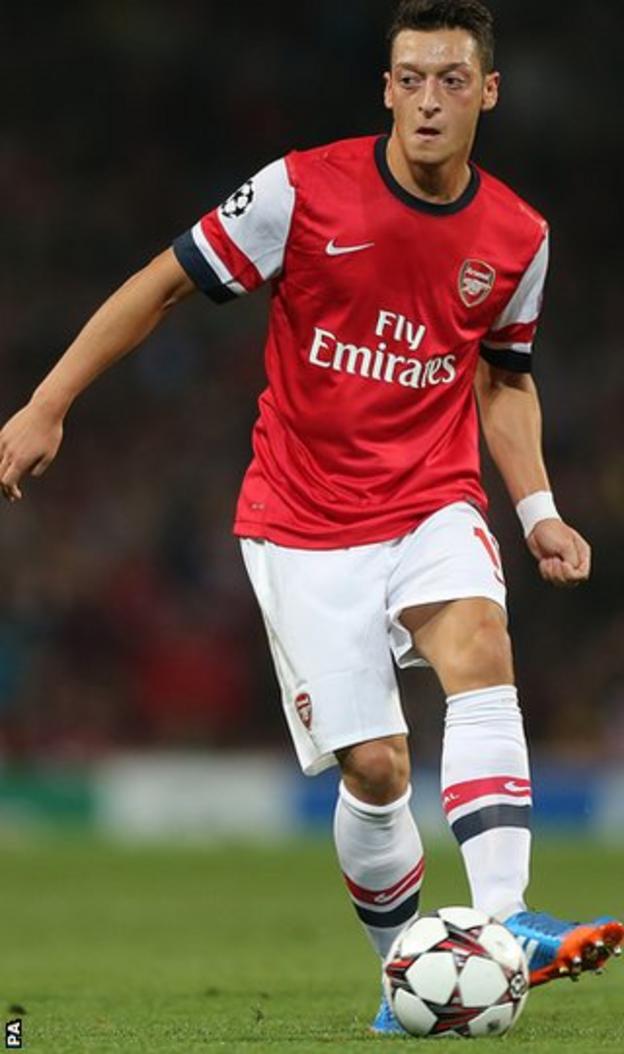 Good results and the arrival of Ozil changed the mood at the club and while the anxiety has not totally disappeared, the atmosphere inside the Emirates this season, since the Villa game, has been one of support. Arsenal were applauded off despite the defeat to Dortmund in the Champions League.
Arsenal's players and fans are enjoying each other's company once more. And, so far as Wenger is concerned certainly, long may it continue.
"We live in a world where we have to be questioned, where you are questioned, and the only response you can give is on the football pitch. That is part of our job."
Questions. Questions. Wenger is worldly wise enough to know that Arsenal will come under greater scrutiny now come what may.
If they continue to top the table they will be asked if it can last. If they slip up they will be asked whether the season will fade away into another unfulfilled one.
The Wenger we are seeing this season looks refreshed. The form of his team from well into last season and continuing into this appears to have had a rejuvenating impact on the 64-year-old French manager.
And his mood of well-being was surely helped by the landmark £42.4m signing of Ozil from Real Madrid on transfer deadline day.
The German has provided the link and quality that can not only hurt opponents but also inspire his team-mates.
Manchester United moved swiftly to deny they were interested in Ozil as Arsenal prepared their deal - Wenger will hope he will leave Old Trafford next Sunday having shown the reigning champions that maybe they should have been.