Southport boss Alan Wright targets Premier League management
By Neil Johnston
BBC Sport
Last updated on .From the section Football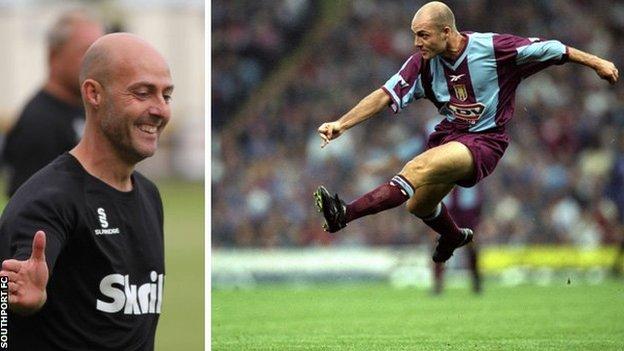 Southport's Alan Wright is planning an FA Cup upset at Leyton Orient as he looks to go from Conference manager to Premier League boss in five years.
But he wants to follow his former club managers Kenny Dalglish, Graham Taylor and Steve McClaren into the top flight.
Asked about the Premier League, Wright told BBC Sport: "In five years I'd like to think I might be ready."
He enjoyed a successful playing career at the top level, making 339 Premier League appearances for four different clubs.
In addition to being Dalglish's first signing at Blackburn in October 1991, Wright spent eight years at Villa, winning the League Cup under Brian Little in 1996 and picking up an FA Cup runners-up medal under John Gregory in 2000.
Wright, who also played for Middlesbrough and Sheffield United in the top flight, is one of the shortest players to have graced the Premier League at 5ft 4in, and attracted unwanted headlines while at Villa when he strained his knee trying to reach the pedals of his new Ferrari.
"It just found an old injury that I had so I couldn't drive it and ended up selling it," said Wright. "It happened a long time ago and it's something I've never been allowed to forget."
While former Villa team-mates Gareth Southgate and Simon Grayson started their managerial careers in the Premier League [Middlesbrough] and League One [Blackpool] respectively, Wright is happy serving his apprenticeship in the fifth tier at part-time Southport after a stint in joint charge of Northwich Victoria in the Northern Premier League.
"We actually qualified for the play-offs at Northwich but because of the club's financial situation we were not allowed to take part and actually ended up being relegated," recalled Wright.
Former Football League club Southport have had better days. They train three times a week, but with an average league gate of around 1,000, money is tight at Haig Avenue.
Yet Wright would not have it any other way.
"I'm thoroughly enjoying it," he added. "I'm not going to name names but there are some players who finish playing and then get jobs in the Premier League, and it's just not working.
"It takes three, four or five years to serve your apprenticeship. Of course I'd like to manage up there, but I'm still learning. I've made mistakes and no doubt I'll make more.
"But it's all about learning from them. Being manager of Southport is a challenge, I inherited a squad of nine players when I took over. But I'm relishing the challenges that this job brings."
Wright is still in touch with Dalglish, who lives in Southport, and Neil Warnock, his former Sheffield United manager.
Man-management skills he picked up from the likes of former England bosses Taylor and McClaren have been used to coax the best out of his players, including former West Bromwich Albion striker Nathan Ellington and midfielder Jamie Milligan, who made four top-flight substitute appearances for Everton.
"I have tried to take a bit from each of the managers I have served," Wright said. "Out of all of them I'm probably more like Brian Little.
"When I look back, Brian was perhaps too quiet at times.
"I'm not the loudest person in the world and I don't usually rant and rave. But if I have to get my point across I will."

So does Wright believe Southport, 16th in the Conference table, have any chance of upsetting Leyton Orient, the League One leaders and highest ranked team in the first round?
"If we are on top form and they have an off day, then who knows?" he said.
"I know they had someone here last Saturday when we beat the leaders Cambridge United, who were previously unbeaten, 1-0. They'll have been impressed with what they saw from us.
"We've got a lot of young players with a few experienced players too."