Champions League: De Sa expecting 'gamesmanship' in Cairo
Last updated on .From the section Football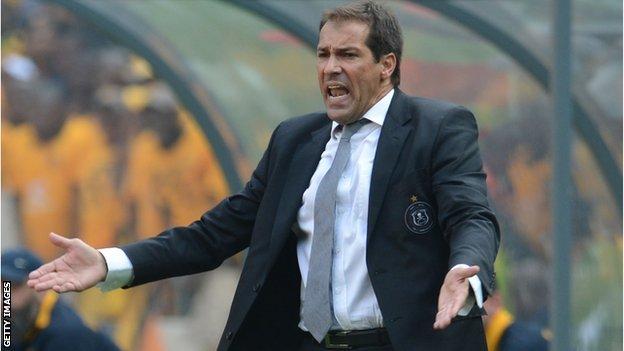 Orlando Pirates coach Roger de Sa says he is expecting some 'gamesmanship' in the second leg of the African Champions League final next weekend in Cairo.
"I don't expect to see too many ball boys [in Cairo] - so if the ball goes out we might quite a while to get it back," de Sa said after the match.
"But that's the gamesmanship the goes with this competition."
But the former goalkeeper insisted he and his players will not be distracted by such problems.
"These are things we have to overcome and get better at it and try to win the game when we have the ball," he added.
"We're not going to be in control of everything they do so we just have to what we are supposed to do well and to the best of our ability.
"That's all we can do and hopefully that will be enough."
The Pirates coach also believes that Ahly will not change their tactics too much for the second leg.
"We're going to be guessing the whole week what they're going to do - are they going to sit back and play on the counter?" de Sa pondered.
"I expect them to be cautious they'll still play their normal formation - [Mohamed] Aboutrika behind the striker, eight players behind the ball, very narrow and very disciplined.
"I don't expect them to change too much - maybe a little higher up the field.
"We have to practice how we can break them down and I think we have the players and the ability to do that.
"If we finish better - who knows?
"That's how it's been this whole competition, home and away has been very different and the teams are very structured so we have to grind away another result."
Orlando Pirates are the only South African side to have been crowned African Champions back in 1995, while Al Ahly are looking to extend their record number of wins to eight.
As well as getting US$1.5 million in prize money the winners also qualify for December's Club World Cup in Morocco.