Dave Kitson criticises 'horrific' and 'horrendous' referee
Last updated on .From the section Oxford Utd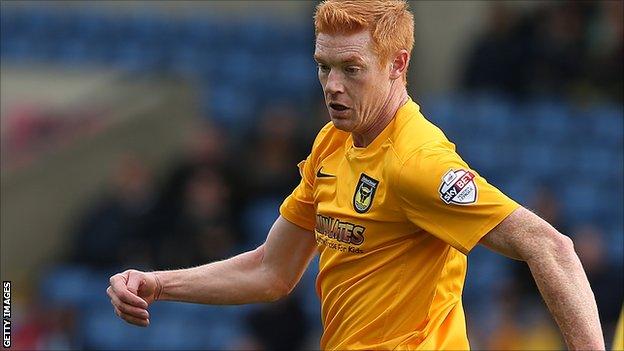 Oxford United's Dave Kitson has called the performance of the referee in Saturday's 1-0 loss to Bristol Rovers "horrific" and "horrendous".
Kitson, 33, also called Mark Brown "possibly the worst referee" he has come across in his 13-year career.
Brown awarded Rovers a penalty in a game in which Oxford's Alfie Potter also suffered a serious ankle injury.
The body that represents referees - Professional Game Match Officials Limited - declined to comment.
However, it added that Kitson's comments were now being investigated by the Football Association.
"He is probably the most arrogant man I have ever come across on the pitch in my life," Kitson told BBC Radio Oxford.
The striker, who joined the U's in the summer, was also critical of the treatment of team-mate Potter who was carried off on a stretcher following his injury.
"We have an incident where Alfie Potter is lying on the floor with his leg in a brace and he's asking the referee about the challenge and the referee is swearing at him, telling him to shut up and warning him he will send him off if he doesn't.
"The lad is lying there with tears in his eyes with his leg in a brace and he cannot even talk to the referee.
"We'd like some decisions from referees. The foul for the penalty was two yards out the box. The referee never communicated with the linesman. I've never seen anything like it in my life. I just don't know why I bother."