Striker Odemwingie hails Bluebirds boss Mackay
Last updated on .From the section Cardiff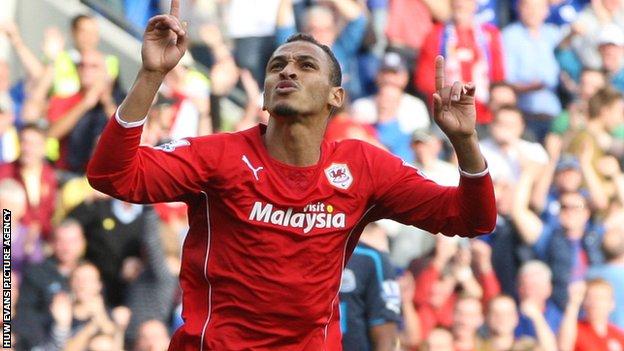 Striker Peter Odemwingie has paid tribute to manager Malky Mackay's handling of Cardiff City's recent off-field problems.
in the first Welsh derby in the Premier League on Sunday.
But the victory came after Mackay's trusted ally and head of recruitment Iain Moody left the club on 11 October.
"The one thing I like about Malky is that he is always straightforward and he is very clear," said Odemwingie.
Manager Mackay and striker Craig Bellamy have both spoken about the impact of Moody's departure from the club.
Moody was replaced by Alisher Apsalyamov, the 23-year-old Kazakh who became Cardiff City's head of recruitment and who has since stepped aside temporarily over a visa issue.
Odemwingie, 32, who signed for Cardiff in September from West Bromwich Albion, says Mackay deserves credit for keeping his players focused on their jobs on the pitch.
"He knows the right words and he speaks very well," said Odemwingie.
"I think he is a very good motivator and when he doesn't want anything on social media he says it directly.
"Or with interviews relating to what has gone on in the past... he made it clear that we had to forget what happened.
"We had to stick together as a group and that the most important people at the club are the fans and we shouldn't let anything affect us.
"Of course, whatever you say, the situation wasn't making things easy for the team and I am just happy we came out of this situation... where we are now on the league table and especially after beating a good side like Swansea.
"The manager conducted himself well and the players responded well and it shows the unity we have."
The Nigerian international revealed Mackay called a meeting of the players and challenge them to focus on matters on the field before beating the Swans.
"In our meeting, he was very clear and... said if anybody had any questions his office is always open," said Odemwingie.
"He welcomed anyone to have a talk... and then he drew a line under it... and he said do we want to move forward as a team? Do we want to stick together?
"We stuck together and here [beating Swansea] is the result."