Ajax need to force game against Celtic - Frank de Boer
Last updated on .From the section Celtic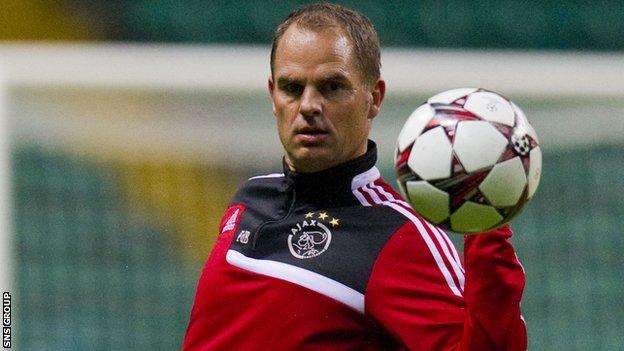 Head coach Frank de Boer thinks Ajax will beat Celtic on Wednesday if they can match the performance that resulted in a Champions League loss in Glasgow.
"We think we will succeed if we play the same as we did in Glasgow," said De Boer ahead of the Amsterdam return.
"If you look at that match we had chances and a lot of good moments. Celtic didn't create any chances but scored twice and won the game."
Ajax have gathered just one point from their three group games and have slipped to sixth place in the Eredivisie after a run of just one win in five matches.
Celtic's record on the road in the Champions League is not good, with 20 defeats in 22 outings.
And a loss for either team would seriously derail hopes of catching Barcelona and AC Milan, who lead the way on seven and five points, respectively.
"They can be confident, they have had some good results in the last year, [beating] Barcelona for example, so they can be confident," said De Boer of the visitors.
"But I saw good things from my side in Glasgow so I also have confidence in my team that we can get three points here and then we are one point ahead [of Celtic].
"It is a crucial game for us. For them, a draw is maybe enough so they can wait more than they did in Glasgow.
"We have to force the game but we are in good shape to create chances and get the three points."
De Boer went on to say he hopes the tiny percentage of Ajax fans he describes as "crazy" do not disrupt the tie.
Uefa opened disciplinary proceedings against the Dutch club after some of their supporters clashed with police and stewards and damaged seats at Parkhead.
"There were moments when they made more noise than the Celtic fans did which was fantastic," said De Boer.
"There is always some crazy people [who] try to disturb something but hopefully it will not happen.
"There have not been so many incidents like that over the last couple of years.
"Of course, it was a bad thing they did in Glasgow and hopefully they will be punished for that but normally 99% are good supporters."