Michael O'Neill unconcerned over player eligibility issue
Last updated on .From the section Football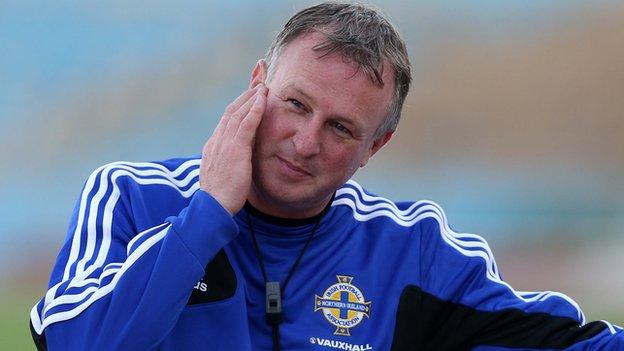 Northern Ireland manager Michael O'Neill believes the appointment of Martin O'Neill as Republic of Ireland boss will have little impact on the thorny issue of player eligibility.
Since becoming NI boss, Michael O'Neill has tried to stem the flow of Northern Irish-born players to the Republic.
The likes of Darron Gibson, Marc Wilson and James McClean have played for the Republic despite being born in the north and there have been concerns Martin O'Neill, as a former NI skipper, could tempt more players to switch.
However, Michael O'Neill, who has just signed a new contract to stay on as NI manager, felt his namesake's appointment would have little bearing.
"I don't think it will be an issue at all to be honest," he said.
"It is not so much the manager, rather it is the association which has taken the stance and the Republic have exploited the opportunity to select our players.
"We have to remain focused on ourselves and on building a pathway for our young players to get the opportunity in the professional game.
"I know most of our young age-group footballers by name and have worked on the training pitch with them and hopefully that is a help.
"I have spoken to Martin on a few occasions and he was very helpful to me before I took this job and since.
"He will be another international manager to me, no different to Roy Hodgson, Chris Coleman or Gordon Strachan.
"This whole issue is probably more of a media thing that it is for me or Martin."