Mat Sadler: Crawley defender bemoans 'catalogue of errors'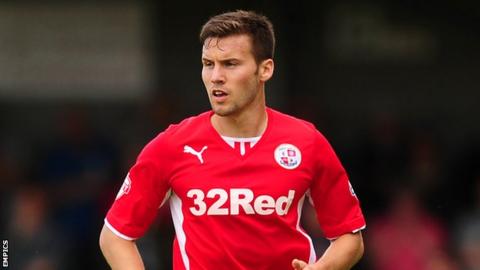 Crawley Town left-back Mat Sadler has warned they must eliminate mistakes to end their run of defeats.
The 2-0 reverse at Bristol City on Tuesday means the Reds have now lost their last four games in League One, conceding eight goals in the process.
"There has been a catalogue of defensive errors and it has not been good enough," he told BBC Sussex.
"Stuff has to change and we have to change our mindset. It could be a long old season if we don't."
He added: "This is the first challenge I have had at Crawley of four games [defeats] on the trot.
"It will be a test of our character, will, desire and strength to want to turn things around.
"It is about doing your basics as a defender as a starting point and then going from there."
After Crawley's seven-match unbeaten run in the league came to an end with a 3-0 defeat at home to Port Vale last month, the West Sussex club have also lost to Stevenage and Brentford.
Reds manager Richie Barker has bemoaned individual errors in recent weeks and Sadler agrees they have been sloppy at the back.
"You can't legislate for some of the goals we have given away as a team," Sadler said.
"Another defensive mistake has cost us and we have to put it right, and quickly.
"Strangely we have gone in patterns this season. It has been very odd.
"We will concede within the first 15 minutes for a spell of games, then we will concede just after half time for a spell of games and then from a set-piece for a spell. Now it is bad goals all of a sudden.
"I know, and we know as a defensive unit, that if we can not concede goals we can be the springboard for the rest of the team and we can then go on and win matches.
"It is hurting us as a back four right now."
Crawley have not scored in their last four games and Barker says there is room for improvement at both ends of the pitch - as all his players "have a flaw".
"From 18-yard box to the 18-yard box there is not a great deal wrong," Barker told BBC Sussex.
"The players are letting themselves down because decision-making at times is poor.
"We are what we are and we've got what we've got. Without being disrespectful, they are not top players."